10,000 Potential Covid-19 Cases Theory Still Stands – Dr Amoth [VIDEO]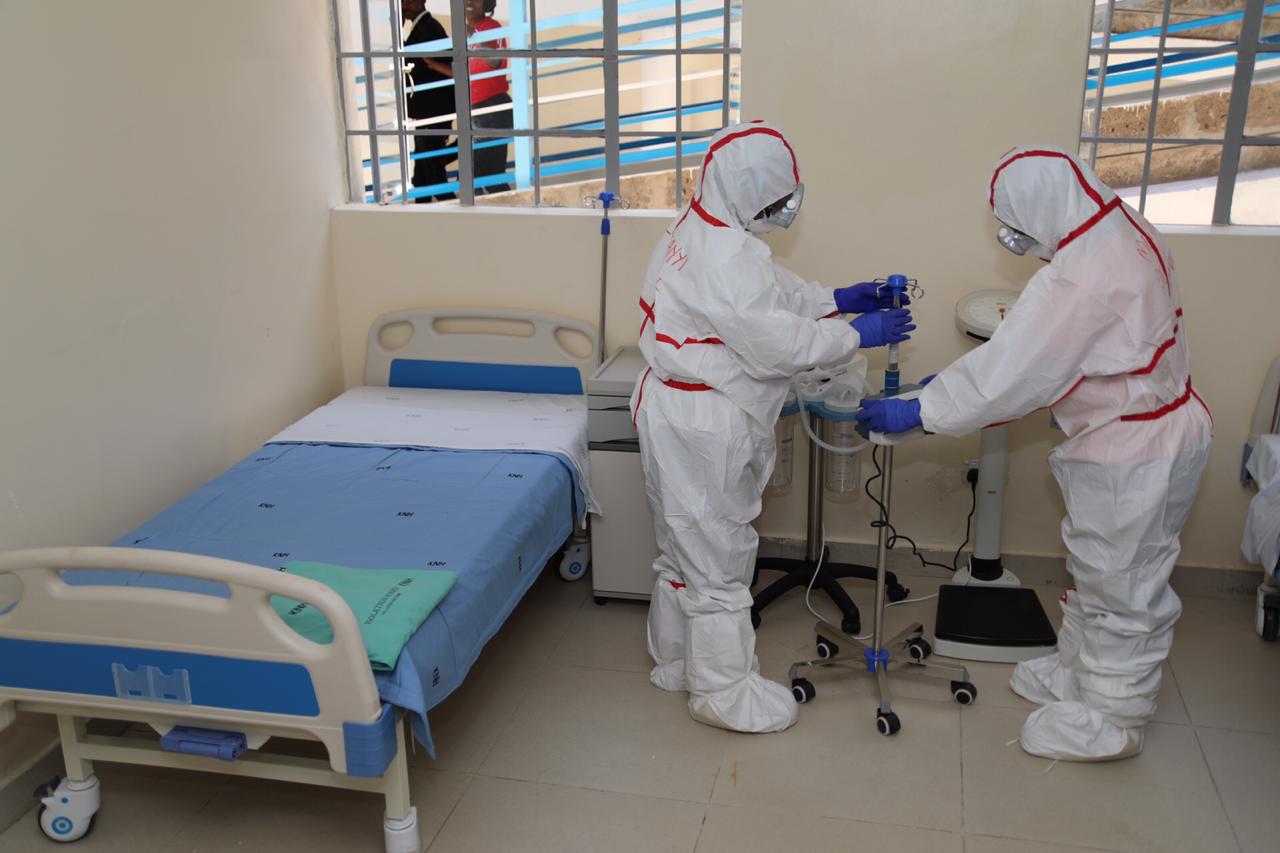 Medical practitioners at a Coronavirus isolation and treatment facility in Mbagathi District Hospital on Friday, March 6, 2020.
Ministry of Health acting Director General, Patrick Amoth, states that the ministry's initial projection of 10,000 potential Covid-19 cases still stands.
"As for our April 10,000 case projection, we still stand by it. We are yet to hit the targeted tests we had based our projections on," he stated during a presser on April 20.
The Health DG announced the startling projections based on an infection rate of 2%, which has proven to be accurate so far.
"We had hoped that by this time (end of April), we would have tested 200,000 to 300,000 people, but as of today, we have only tested 13,872, with 281 turning positive, an infection rate of 2%," he stated.
Back on March 30, Amoth revealed that the ministry's projections indicated a high probability of Kenya reaching the 10,000 mark, if the projected tests were carried out.
However, mass testing has proven to be the biggest challenge, with CS Mutahi Kagwe announcing that there was a shortage of testing kits.
He then went on to explain a new testing prioritisation strategy starting with frontline health workers and Coronavirus hot spots, in what was tagged as targeted mass testing.
"Countries have adopted the mantra, test, isolate, treat and trace, same to Kenya. The Pharmacies and Poisons Board is now accelerating regulatory decisions in regards to Covid-19 test kits. It is implementing stringent expedited accreditation mechanisms which shall shrink the process from three months to 48 hours. Using this approach the board has authorised the employment of four test kits for detecting the virus.
"Our capacity for testing will be expanded to cover at least one laboratory per county across the country and will commence in about 2 weeks," Kagwe elaborated.
President Uhuru Kenyatta on Wednesday, April 22, echoed Kagwe's sentiments, adding that the government had identified various hotspots within the country that would be prioritised in the new targeted approach.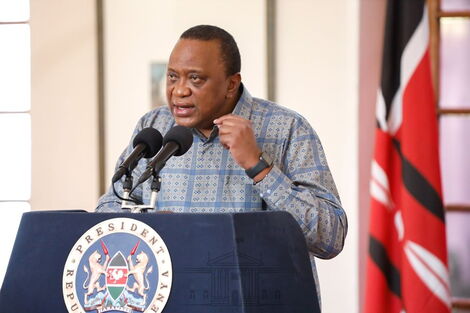 President Uhuru Kenyatta addressing the nation from State House Nairobi on April 25, 2020.
PSCU
"We have also mapped the cases and zeroed down to the areas of origin. In Nairobi for instance, we have noticed that the cases are spread between almost all estates with Kilimani having six cases, Pipeline five, Karen four, South C four, Kawangware three, Tassia two, Utawala four, Kitisuru two, Parklands two, Buru Buru two and Kibra two.
"Almost every other city estate has reported at least one case- Donholm, Eastleigh, Hurlingham, Lavington, Runda, Ngara, Madaraka, Kasarani – and many more. I want to plead with all of us to take the measures we have announced more seriously," CS Kagwe revealed during his presser on April 19.
Data from the Ministry of Health indicates that, as of Saturday, April 25, there were 343 confirmed cases of the Coronavirus (Covid-19) in Kenya, 14 fatalities as well as 98 patients who have fully recovered from the virus.
DG Amoth's warning on the potential of a huge number of the untested population harbouring the virus was heeded by president Uhuru, who on Saturday, April 25, ordered that the national curfew that was initially declared on March 25, 2020, would be extended for another 21 days.
He added that the cessation of movement in and out of the Nairobi Metropolitan area, Mombasa and Kilifi would also be pushed forward by the same number of days.
"In accordance to the advice given to me by the National Emergency Response Committee on the coronavirus, the National Security Council has sanctioned that the cessation of movement to and out of the Nairobi Metropolitan area and counties of Kilifi, Kwale and Mombasa that are currently in force shall be extended for a further containment period of 21 days," he declared.
Watch Dr Amoth's presser explaining the 10,000 cases theory below: