11-Year-Old Boy Turns Hobby Into Money-Making Business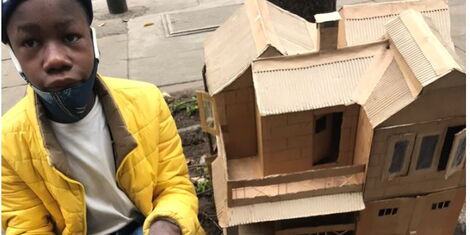 For many parents in Kenyan households, the Covid-19 pandemic has brought with it a lot of sorrow in among other things, putting up with idle children in the house all day long. But for the family of Fred Junge, a class six pupil at Donnahills Primary School in Dandora, it has birthed an entrepreneur.
In an exclusive interview with TMZ.co.ke, Junge's elder brother Joe, disclosed that the eleven-year-old is working hard to meet 30 orders for the doll houses he makes from cardboards.
He revealed that before the pandemic hit, Junge would mostly construct the playhouses for his own fun but since March, he has already sold 15 pieces which goes for Ksh400 each.
"The child is 11 years old and in class six. He got the skills from his own creativity. He used to create them in 2018 but he has now perfected the art.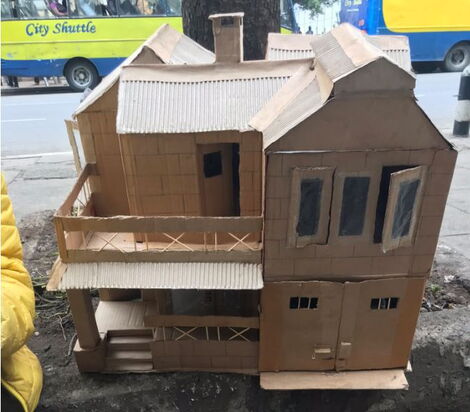 One of the doll houses created by Class six pupil Fred Junge.
"These days, after Coronavirus hit,he started selling them. He sold 15 of the houses to his friends in this neighborhood," he stated.
The word about his talent went out on Friday, August 21, after a family friend shared one of his products on Twitter and two days later, he got an order of 30 pieces.
"The guy who posted it online told me that he has received 30 orders. He had one house, how he is working on creating more," he added.
For the 15 pieces he sold, the last born in a family of three siblings from Dandora Phase 5 pocketed Ksh6,000 and is set to earn Ksh 12,000 when he delivers the remaining 30 orders.
The models mimic a two-story mansion with a front porch and a balcony on the upper floor.
The dollhouse also features drive-in parking attached on the ground floor.
Joe noted that initially, it took his brother more than a week to complete a piece but since he perfected the self-taught art, he take only three days.
"This boy walks from Dandora to Nairobi CBD daily hoping to sell this art of his at Ksh 400. Passed by him today and he never minded me taking a photo.
"I love people who go the extra mile to make their coin, that's clean money," noted a customer who was satisfied with the piece of art.
"That is not just a box! Any architect out here will tell you they make those "boxes" at one point during their training! Boy is doing it apparently without any training! How sharp! Get more details and maybe see how he can be helped to possibly get apprenticeship somewhere," added another.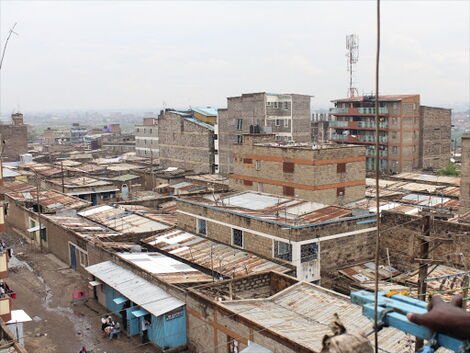 An aerial photo showing a section of Dandora Estate in Nairobi.
Related