15 Counties Expected to be Hit by Strong Winds – Weatherman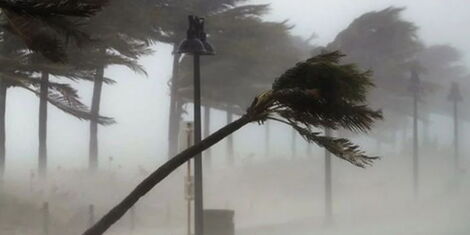 The Kenya Meteorological Department on Wednesday, July 15, issued a warning of strong winds expected to hit 15 counties.
In a statement, the weatherman stated that the strong southerly winds traveling at more than 30 knots (15.4 metres per second) were expected over the coast and eastern regions of Kenya on Thursday, July 16.
The counties likely to be affected are Marsabit, Turkana, Samburu, Mandera, Wajir, Isiolo, Garissa, Kitui, Makueni, Taita Taveta, Tana River, Lamu, Kilifi, Mombasa and Kwale.
Residents in the mentioned counties were urged to remain on high alert warning that the gale (strong) winds could blow off roofs, uproot trees and cause structural damages.
"The wind speed is expected to strengthen to more than 40 knots (20.6 m/s) on Friday, July 17, at 3 am. The strong winds are likely to reduce to 30 knots on July 18, 2020," the notice read in part.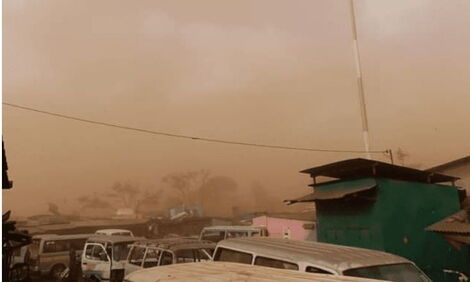 Strong winds in Kirinyaga County in October 2019.
In the coastal areas, the meteorological department warned that the high waves could lower visibility, cause capsizing of boats, and threaten the safety of those engaging in water sports and recreational activities.
The wave height is likely to be more than 3 metres over the Kenya coastal waters on Friday, July 17 and is expected to reduce to 2.5 metres on Sunday, July 19.
"People are urged to continue listening to local media as updates will be provided if conditions change significantly. Further advisories may be issued as we follow the progress of these weather events," the MET department noted.
Earlier in the week, South Africa reported the gale winds being experienced in various parts of the country including Cape Town.
The winds and large waves caused sea foam to spread across the city streets accompanied with chilly weather.
The South African Weather Service (SAWS) warned that gale to strong gale force winds blowing at 65 to 100 km/h would be experienced in various communities around Table Bay, False Bay, Hermanus, Cape Agulhas and adjacent interior areas.
Heavy rain leading to flooding were also experienced over the Cape Metropole, Western Cape Winelands and Western Overberg.
Gale to strong gale force winds may result in damage to coastal infrastructure, beach erosion and difficulty for boaters and fishermen. Disruption of harbours and ports as well as beachfront can be expected. Medium to large vessels will be at risk as a result of dragging of anchors.
Gale to strong gale force winds over the interior could lead to damage of formal and informal settlements. Falling over of trees is likely to affect properties and road travel.
Here is a video of the  situation in CapeTown as Strong winds hit the South African Coast:
Related