2 Covid-19 Patients Denied Entry Into Kenya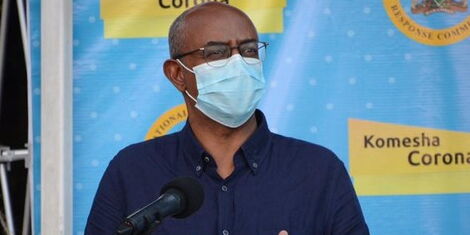 The national government on Tuesday, May 12, turned away to 2 Tanzanian citizens after they tested positive for Covid-19 at the Isibania Border Point.
"Yesterday I said that we are testing Tanzanians who are crossing over, but, we are testing them while on their soil and then sharing with them the results of the test," Health CAS Rashid Aman stated.
He then revealed that 2 Tanzanians were identified in the latest batch of tests and consequently denied entry across the busy border crossing point.
Across the border in Tanzania, several social media influencers and digital news publications were claiming that the government had so far closed down two border crossing points: Horohoro and Namanga.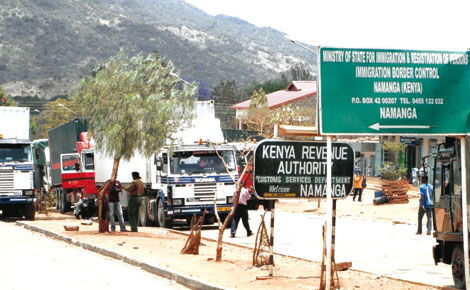 Trucks at the Namanga Kenya-Tanzania border town.
THE STANDARD
"Kenya imeufunga mpaka wa Horohoro uliopo mkoani Tanga unaoitenganisha nchi hiyo na Tanzania, (Kenya has closed down the border point of Horohoro in the Tanga region),
Hatua hiyo inakuja siku moja baada ya Kenya kuufunga mpaka mwingine kati yake na Tanzania uliopo Namanga mkoani Arusha (the move comes just a day after Kenya closed down the Namanga border in Arusha)," Watetezi TV ( a Not-For-Profit online TV under the Tanzania Human Rights Defenders Coalition) tweeted.
However, speaking to TMZ.co.ke, Government Spokesperson Cyrus Oguna was quick to deny the claims of border closures.
"We can't just close down borders without following the stipulated protocols. If it comes to that, the move will be announced to the public across all official government platforms relevant to the issue," he elaborated.
Migori Governor Okoth Obado on several occassions lamented over the porous nature of the Isibania border, which has left his county residents exposed to potential Covid-19 carriers from across the border.
"Our Covid-19 Emergency Response Team has recommended that we close down our border with Tanzanian indefinitely," he stated on May 4.
"I also want to make a special appeal to our national government to ensure that we completely stop the entry of Tanzanians into our territory," he added.
Isibania Town on the Kenya-Tanzania border.
Related