20-Year-Old Kenyan Star Destined for Formula 1 Glory [VIDEO]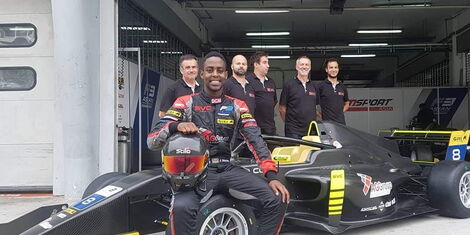 20-year-old Kenyan Formula 3 driver, Jeremy Wahome, has been steadily making his way in racing's most prestigious competition.
On his shoulders, lies the hopes of an entire country and arguably the entire African continent as he pursues his life-long dream to duel with 6-time Formula 1 (F1) champion Lewis Hamilton.
Speaking during an interview with the BBC, the gifted driver made it clear that his dream was to race against his idol and source of inspiration.
Watch Wahome in action below:
"Lewis Hamilton is my all-time favourite driver and if he sticks around for the next 4 to 5 years, it'd be a dream to race against him," he told the BBC at the end of 2017.
With the current Formula 1 world champion currently 35 years of age, but still driving his Mercedes Benz w11 like a teenager on steroids, Wahome could still get his chance, but he would need to prove his mettle in Formula 3 then Formula 2 before getting his shot.
However, once in a generation, drivers come along whose skills surpass their age and herein lies the Kenyan driver's path to the prestigious Formala 1 championship.
On June 8, 2018, organisers of the world's first F3 Asian Championship Certified by FIA released the names of the first confirmed drivers for the inaugural season, and the Kenyan driver just happened to be the only African on the list.
His journey, just as was the case with Lewis Hamilton, started when he was just 8 years old when he started racing in the Rift Valley Motor Sports Club Go-Karting championship.
The level of skill and precision was visible from his early days and his family soon moved to Cheltenham in the UK in 2016, where he got to study and hone his skills on the track.
He competed in the Super-Six category and one round of the full Asia Cup at the Sepang International Circuit in Malaysia, claiming three top rookie awards with two runner-up finishes and a third place from five races.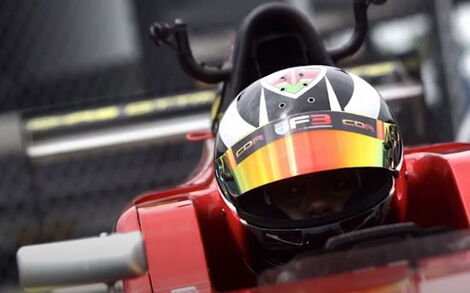 Jeremy Wahome behind the wheel of his Formula 3 car.
YOUTUBE
The Kenyan was picked up by Chris Dittmann Racing for the 2017 BRDC British Formula 3 season, owing to his exceptional skills behind the wheel.
The UK-based Kenyan F3 driver Jeremy Wahome wrapped up his 2018 campaign in awesome fashion by finishing 12th in the overall standings racing for Italian outfit -Scuadra Villorba Corsa (SVC).
As for his duel with Hamilton, the young driver recently spoke of how Belgian-Dutch racing driver Max Verstappen gave him the extra motivation because he is proof that young drivers can also win the famous racing championship.
Verstappen became the youngest driver to compete in Formula One aged 17 years, 166 days.
Just to give a glimpse of just how prestigios F1 is, an average engine in the championship car costs an estimated Ksh1 billion which varies according to the feature demands of the racing team managers and owners.
When the car picks acceleration on the track, wings play an important role in balancing during the turns. Around Ksh30,000,000 is required to build a better front wing and nose cone.
The rear wings costs around Ksh8,500,000 if they are upgraded by a better manufacturer.
The actual control of the car is through the steering wheel. The cost of the steering wheel ranges from Ksh7,000,000 to Ksh10,000,000
The average formula one car uses almost Ksh50,000,000 fuel worth of petrol during a season. Almost 200,000 liters is used in a single season during practice session and racing sessions.
Wahome has his work cut out for him, as he races towards a dream race against his idol at the British Silverstone circuit, a track his has been to several times, and hopes to mark his comeback there behind the wheel of he billion shilling car.
Off the track, Wahome has been involved in alot of social projects in Kenya, including one dubbed as the Library Project, which involved setting up a library at the heart of Kibra in 2017.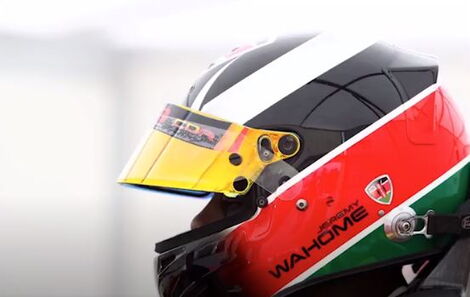 Jeremy Wahome pictured in his racing helmet.
Related