3 Landlords Arrested in Swoop to Protect Michuki Park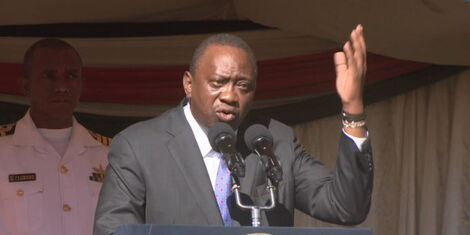 The National Environmental Management Authority (NEMA) on Saturday, August 15, arrested three landlords in the ongoing restoration of the Michuki Memorial Park in Nairobi.
The swoop comes a day after President Uhuru Kenyatta launched the green space in the city with the promise of rejuvenation of more spaces.
NEMA officers apprehended the landlords stating that their structures were within the riparian reserves of the park.
The team of inspectors led by Director General Mamo B. Mamo found that the houses were also discharging untreated effluent directly into the Nairobi River at the Kirichwa river.
NEMA Officials at Michuki Memorial Park on August 15, 2020.
In addition to the arrests, the officials also ordered the 16 affected tenants to vacate the houses until the landlords connect to the sewerage system.
During his address on Friday, August 14, President Kenyatta pointed out that besides Michuki Park, the government was working on renewing several other green spaces within the city among them the Nairobi Arboretum, Karura Forest, City Park and Ngong Road Forest.
"And we hope to extend this re-birth of our environment or what I call the 'green renaissance' to all counties of the Republic," he stated.
The President added that every Kenyan had a responsibility to conserve the environment as he regretted mistakes of the past, especially weak enforcement of environmental and sanitation that led to Nairobi losing its green city status.
"As Government, we did not enforce the civic responsibility of the citizen to take care of the green spaces. And the citizens of Nairobi city were not organized enough to protect it.
"Because of this, and the rapid growth of 'concrete spaces' over the 'green spaces', there was a collapse of civic order and national duty in the city," he added.
Urban green spaces such as parks, sports fields, woods, lakesides, and gardens give people the space for physical activity, relaxation, peace, and an escape from heat.
Green spaces are also associated with better air quality, reduced traffic noise, cooler temperatures, and greater diversity.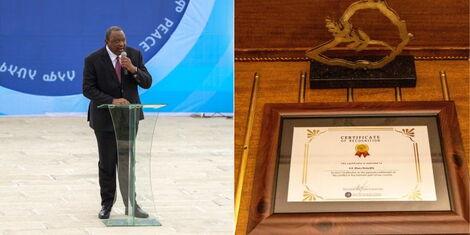 President Uhuru Kenyatta and Nairobi Governor Mike Mbuvi Sonko during the official launch of the Michuki park on Friday, August 14
Related