4 Survive, Driver Perishes in Southern Bypass Speeding Accident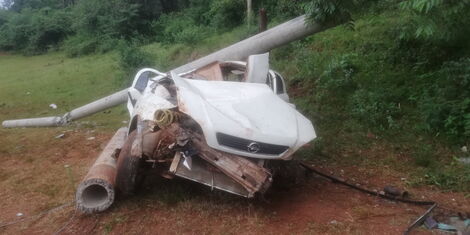 A driver lost his life on Sunday night, June 6, died after he lost control and crashed off the Southern Bypass, near the Ngong Road Overpass.
Speaking to The Standard, Langata OCPD Benjamin Mwathi confirmed the accident happened at 9.30pm on Sunday.
The other four occupants, four men aged between 21 and 28 years sustained serious injuries and are currently receiving treatment at  Kenyatta National Hospital.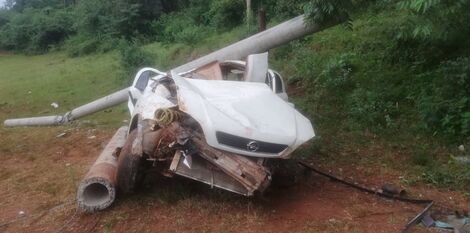 A Wreckage of the White Opel Saloon Car Off the Southern Bypass on June 7,2021
TWITTER
"The vehicle rolled several times before hitting the electric pole, killing the driver on the spot," Mwathi confirmed.
The body of the deceased was moved to the mortuary for identification.
Unconfirmed reports indicate that the group was intoxicated. However, TMZco.ke could not independently verify the claim.
On Monday morning, June 7, Ma3route reported that another accident occurred as motorists and passers-by tried to get a glimpse of the carnage. Three vehicles rammed into each other while one boda boda operator was electrocuted.
The incident comes barely a week after two trailers were involved in a head-on collision on the same road behind carnivore just after the Langata interchange, causing heavy traffic.
Another driver, Allan Ngugi, lost his life on May 6, when he rammed into the rear side of the truck which was moving slowly on the fast lane on the stretch behind Wilson Airport.
In April this year, the National Transport and Safety Authority (NTSA), in conjunction with the National police launched a manhunt on subaru drivers who appeared to be racing on Thika Road.
"We are still on the move. NTSA and NPS is hunting down those involved. This is the follow up of a crackdown," stated the representative.
In April 2018, John Macharia, son of Royal Media Services owner, S. K. Macharia, lost his life in a road accident along the Southern Bypass.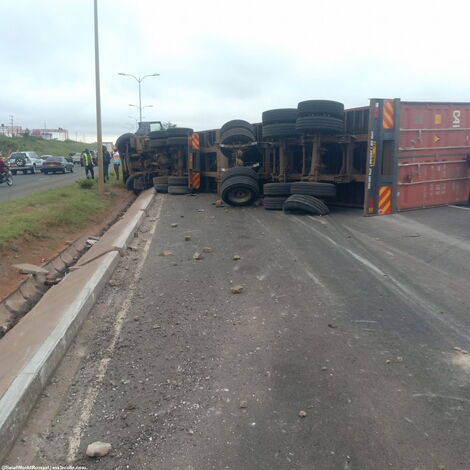 An Overturned Truck on the Southern Bypass on Monday, May 31
TWITTER
He also was driving at a high speed when he lost control and crashed into a streetlight.
Motorists using the Southern Bypass have severally raised concern about poor lighting as some of the street lights are dysfunctional.
This, paired with lit headlamps from on-coming vehicles, caused poor visibility of drivers. The area has also witnessed a rise in insecurity attributed to the poor lighting and little traffic police surveillance.
Related