461 New Covid-19 Cases, Deaths Rise to 209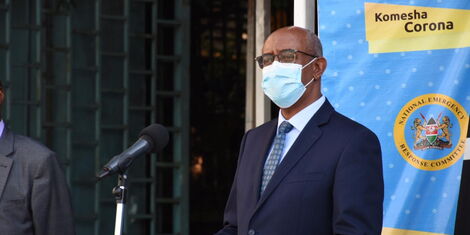 The Ministry of Health on Wednesday, July 15, confirmed 461 new cases of Covid-19 in the country, bringing total cases recorded so far to 11,252
Speaking during the daily press briefing, Health CAS Rashid Aman noted that the new cases were recorded from 4,261 samples tested in the last 24 hours, bringing the total samples tested in the country to 235,425.
It was announced that 51 patients had been discharged from hospitals, bringing the total number of recoveries to 3,068.
The death toll from Covid-19 in Kenya rose to 209 after 7 more fatalities were confirmed.
All, except 29 of the positive cases are Kenyans, with 461 of the positive cases 320 being males while 141 are females
The CAS highlighted the great risk facing health care workers in the battle against the pandemic, announcing that 450 health workers had tested positive to date.
He further stated that the government was placing extreme importance on the protection of healthcare workers by ensuring that they have the right protective gear and if they get infected that they receive the proper care.
Related