5 Times Boni Khalwale's Dramatic Stunts Went Viral [VIDEO]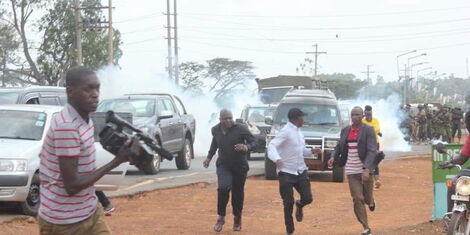 Former Kakamega Senator Boni Khalwale is no stranger to making headlines. By virtue of being a politician, his stunts get more traction than the average Kenyan and in a world where there's no such thing as bad publicity, Khalwale has managed to carve out a niche of the dramatics.
Some of his theatrics happen in the full glare of the camera and once picked on social media platforms go viral organically.
Khalwale, a former medical officer and a fierce supporter of Deputy President William Ruto, has occassionally kept Kenyans entertained with his dramatic demeanour.
Here are the five instances Khalwale's stunts went viral;
1.) Khalwale Pours Water on Police Boss
The incident, which took place on Saturday, July, 18, 2020, is the most recent of Khalwale's stunts that went viral on social media platforms.
Khalwale, Mumias East MP Ben Washiali, Matungu MP Justus Marunga, and other politicians had convened at the home of Hamisi MP Charles Gimose, when police disrupted their meeting by hurling teargas at them.
Moments later, a video that surfaced on social media platforms showed Khalwale pouring a bucket of water towards Hamisi OCPD Johana Chebii and later run away.
Khalwale assured the security officers that they could not deter their plans stating; "Tear gas or no tear gas, we shall not relent."
2.) Khalwale carrying stones
During the Kibra by-election that was held on November 7, 2019, Khalwale yet again engaged in running battles with Kibra residents who were supporting the Orange Democratic Party.
A video would later emerge of the former senator carrying stones and being chased out of Laini Saba ward.
"Pictures are disheartening and sad. This man was once a kingpin of a whole community, he's a medical doctor, the immediate former Senator of Kakamega County. Who or what reduced Boni Khalwale to this?"Ahmed Mohamed posed.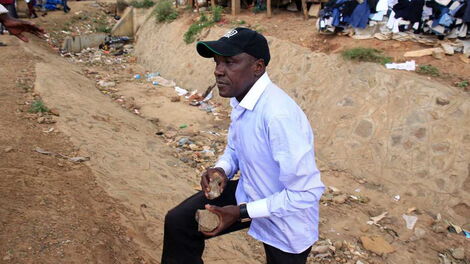 Former Kakamega Senator Boni Khalwale carries stones to defend himself in Kibera on November 7, 2019 during Kibra By-elections.
TWITTER
3.) Kimunya must go slogan
Yet again, Khalwale is famous for the slogan 'Kimunya must go'. A slogan that he created during former censure motion of Finance Minister Amos Kimunya.
At the time, the National Assembly was debating a vote of no-confidence against Kimunya and Khalwale, who was the then Ikolomani MP, was the sponsor for the motion.
"To stop corruption at the treasury, Kimunya must go, to end impunity in this country, Kimunya must go, to re-possess the hotel, grand-regency, Kimunya must go," he stated in parliament.
4.) Khalwale grabs mic after Sossion speech
During the mass of the 14 pupils who lost their lives following a stampede at the Kakamega Primary School, the former senator grabbed the microphone from  Governor Wycliffe Oparanya, who had received it from the immediate speaker MP Wilson Sossion.
Sossion had just handed the microphone to the mcee, governor Oparanya, when Khalwale rose and took it, indicating that he wanted to address the mourners.
Oparanya stated that he would give him a chance to address the gathering but the former senator did not allow it.
5.) Security Detail Snatches Khalwale's Microphone.
In a funeral ceremony in January 2016, a fight ensued after an aide to former Vihiga Governor Moses Akaranga attempted to eject Khalwale from the burial.
The aide had warned Khalwale of discussing politics during the ceremony.
Chaos would later ensue after the aide attempted to snatch the microphone from Khalwale who was addressing mourners.
The commotion disrupted the burial for about an hour as mourners watched the two engage in an exchange.
Related