Airtel Hits The Spot With the New MyAirtel App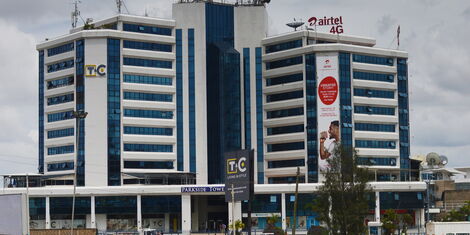 If I was to list down 3 things I'm beyond grateful for, they'd be family, health and smartphones.
It may sound vain but let me explain.
Back in the day, you'd have to stand in queues that could pass for election day, at your mobile service provider's office, just to renew your post-paid subscription.
All that small talk with total strangers (usually involved a lot of complaining), menacing stares at that one person who waltzed past you while jumping the queue – coz she was dating one of the tellers, just didn't seem worth it.
Then smartphones happened!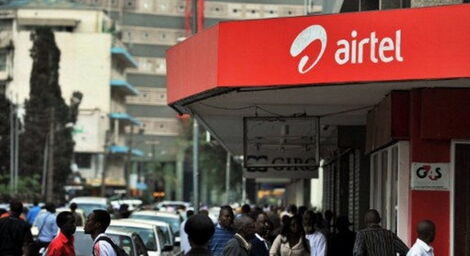 A file image of an Airtel shop
That was literally, light years ago, and the only reason you'd have to physically visit their offices is if you are actually dating one of their staffers – are you? We know you!
Everything you'd need is now just an app-away.
Always looking to keep up with the fresh, but more importantly, convenient new trends, Airtel recently revamped its My Airtel App and here are 7 reasons why I consider it a life-saver.
Me2U (Share Airtime)
In the spirit of caring during these tough Covid-19 times, you frequently find yourself buying airtime for your family members and friends. You can now conveniently share Airtime to any valid Airtel Mobile using the Me2U feature on the App. This is awesome!!
Buying Bundles & Airtime
You no longer have to cram a billion digits and asterisks just to get yourself the bundles you need to send that Ghanaian funeral meme (you know the one I'm talking about).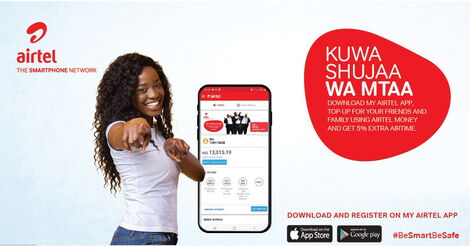 An airtel poster announcing 5% extra-airtime after topping up credit for friends.
You can easily buy bundles or airtime using Airtel Money on the MyAirtel App. With just a few clicks and voila! You have bought yourself 2GB at just – read this – just Ksh99 bob for 2GB!
Send & Receive Money
This has proven to be really helpful during this Covid-19 period. Not only because the government directed that we minimise on cash transactions, but more because I have been able to bail out a couple of friends and family – and I have been bailed out severally as well.
What makes it even better is that you don't even need to keep voicing out your recipient's number when sending money (just so you don't end up keying in the wrong number).
The app can access your contacts, thereby helping you avoid that very possible scenario where you end up sending some inmate in Kamiti money that was meant to buy mum a new set of Covid-19 protective masks.
MyAirtel App has made international money transfer super-duper easy. You can now send and receive money from Rwanda, Tanzania, Malawi and Zambia.
Pay Bill
Remember those long queues I mentioned earlier on. Well, you now don't need to look at people menacingly.
You can now pay all your bills from the comfort of your house. I mean, literally, you can pay your Airtel Postpaid bills, Electricity Bill, Water Bill, Pay TV Bills, Education Services (HELB), Government Payment-  e-citizen and Other  Pay Bills.
All this can be done from the comfort of your living room couch.
Lipa na Airtel Money- Buy Goods & Services
This has also been quite useful during the pandemic. With online stores cropping up all over, shopping from home is the new trend and paying via Lipa na Airtel Money is a safe bet.
For me, I have a boda guy, I just tell them what I need for lunch or some of my other idiosyncrasies that I am not willing to share right now, and he's on my doorstep with the delivery after I have paid the bill via MyAirtel App.
It has made my work-from-home so very convenient.
Deposit Money
Now you not only get to avoid queues at the shops I mentioned earlier, but you also bypass the banking ones as well. Yes, they have seats, TVs, and soothing voice-overs reading out your numbers nowadays, but who wouldn't avoid a trip to the bank if they could.
Through MyAirtel App, you can also Withdraw Money at any of their countless agents, when you really have to. To cap it off, the app automatically records all your Transaction History.
This information is easily and safely accessible to you at a click's notice. I find it quite useful as it actually helps one plan and track their transactions – especially now that I am working from home and I have some little time to spare (read; spending).
All in all, the MyAirtel app gets a 5-star rating simply for its convenience and user-friendly interface.
It is available to all Android and IOS users.