Alcohol Ban: How Kenyans Are Beating State Directive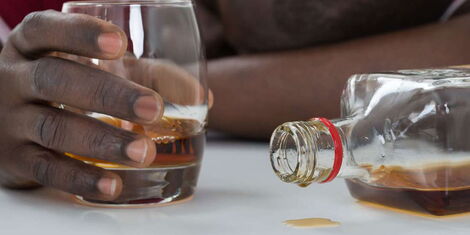 A section of Kenyans including numerous revelers and bar owners opted to disregard a directive announced by President Uhuru Kenyatta on Monday, July 27 which banned the sale of alcohol in bars, eateries and restaurants.
Investigations by TMZ.co.ke on Tuesday, July 28 revealed that several bars and drinking dens in the capital city, Nairobi, were still operating a day after the directive took effect.
Many revelers appeared undeterred by the warning that individuals found drinking in bars and restaurants now risk a fine of Ksh 20,000 or six months in jail.
Bar and restaurant owners, on the other hand, face arrest and withdrawal of business permit if found flouting the directive. As a spot check by Kenyans.co.ke in the Nyayo Highrise locale revealed, however, some bars had chosen to ignore this and continued to serve patrons who were locked inside the establishments.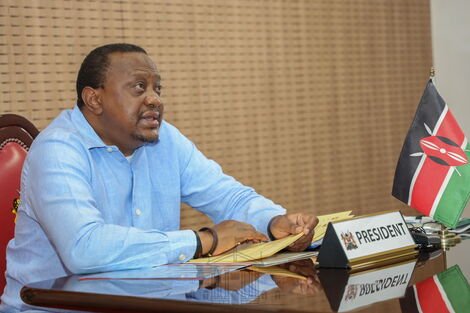 President Uhuru Kenyatta pictured during the 5th Extra-Ordinary summit on July 27, 2020.
Mwende* (name changed to protect her identity), owner of a small bar in the area, disclosed that she had kept her establishment open because it was her only source of income.
"We have been opening even when they first announced that bars are to be closed. Where else am I supposed to get money for food or school fees for my children?" she posed.
At least two bars in the area were seen operating during the day, with revelers locked inside, while another had its doors wide open to patrons.
Similar situations were observed at various establishments in areas including Lang'ata and Kibra. Notably, liquor stores witnessed increased traffic as many sought to stock up on their favorite drinks.
Mwende alleged that while police officers in the area frequently descended on bars in the area, some officers were willing to allow them to operate as long as they paid a bribe.
Similar allegations of bribery had been leveled against officers who were tasked with enforcing the cessation of movement order by manning various roadblocks before President Kenyatta lifted the order on July 6.
Jonte, a patron found drinking at one of the establishments, told Kenyans.co.ke that he expected many to continue ignoring the rules if bars were not allowed to re-open soon.
"I think it would be better if they allowed bars to operate with strict social distancing rules because now we are drinking in fear, police can show up any minute and we will be in trouble," he observed.
Speaking after a meeting with county covernors, Uhuru had announced that the ban on sale of alcohol would remain in place for 30 days.
He further declared that bars would remain closed as part of measures to curb the spread of the Covid-19 pandemic, much to the disappointment of bar owners who had been piling pressure on the government to allow them to re-open.
Pubs, Entertainment and Restaurant Association of Kenya (Perak) national chairperson Alice Opee on Wednesday, July 22 claimed that a ban on the sale of alcohol in restaurants would lead to the loss of an estimated Ksh50 billion in tax revenue.
Perak National Chairperson Alice Opee (centre) during a press briefing in Nairobi on July 22, 2020
She further cautioned that the directive would lead to the loss of about 500,000 jobs in the sector.
"We have noted with concern the draft regulation by the Ministry of Health in circulation. If the proposal is approved, about 500,000 of our youths will be rendered jobless and businesses are likely to collapse," she stated at the time
Related