Andrew Kibe Quits Kiss FM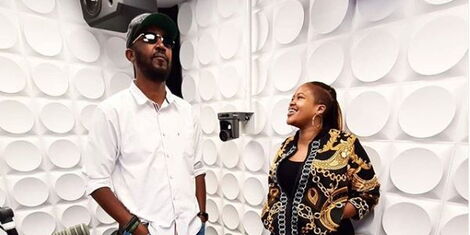 Controversial media personality Andrew Kibe has quit Kiss FM, TMZ.co.ke has learned.
The radio presenter who spoke to this writer stated that Tuesday, June 30, was his last day at the Radio Africa-owned station.
"I gave my notice three months ago because I was being censored on the content I could put out on national radio," he stated.
Kibe who is known for his hard-hitting advice stated that he had a great run at the station and would now focus on his brand on digital platforms.
"On social media, I can put out whatever I want without limitations, things I couldn't say on the radio," he noted stating that digital was the next frontier in content creation.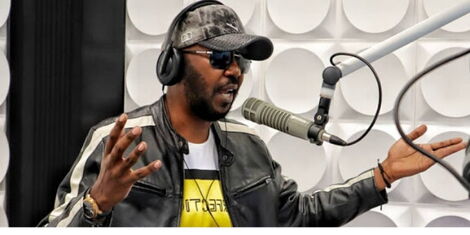 Radio presenter Andrew Kibe in Kiss 100 FM studios.
He further expressed his gratitude for working alongside his co-host Kamene Goro – whom he had worked with at NRG Radio.
"I am glad to have worked with Kamene and I hope she will join me in the digital space as well," he conveyed.
According to data by GeoPoll, the breakfast show by Kamene and Kibe has been gaining audiences through the three months with 716,000 listeners in May 2020.
There Breakfast show was ranked sixth overall in the country and the second most popular English show after Classic FM's Maina and King'ang'i.
The duo took over the Morning Kiss segment in September 2019 after leaving NRG Radio earlier in the year.
Kibe at the time promised to have an edgy show which would explore real conversations
"In as much as it is hard to [be] real on radio nowadays, expect real conversations from the two of us," he was quoted at the time.
Kamen on her part stated that they were looking to do things a little differently.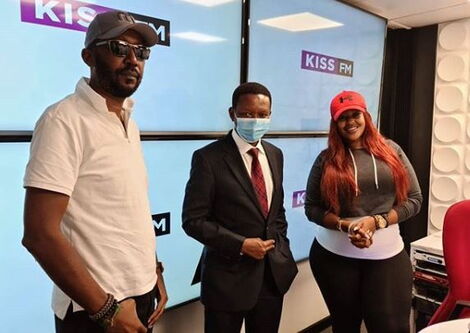 Radio presenters Andrew Kibe (Left) and Kamene Goro (right) with Machakos Governor Alfred Mutua on May 22, 2020.
"They are not ready for what is going to happen. Radio has become so uninteresting and presenters have not been giving listeners the value to continue listening to them. So to us, we are doing it differently," she explained.
Kibe is the second high profile media personality to quit radio after Milele FM's Jalang'o announced his departure from the Mediamax-owned station on June 22.
He has since delved into growing his online brand with his YouTube channel as he entertains offers from various stations.
Related