Atwoli: I am Not in Bad Terms With Ruto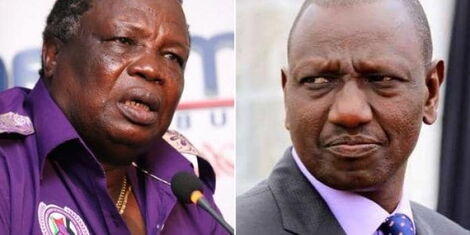 Central Organization of Trade Union (COTU) Secretary-General Francis Atwoli has opened up about his relationship with Deputy President William Ruto after a period of rubbishing his 2022 presidential ambition.
 Atwoli was speaking at a local radio station on Monday, May 25, where he stated that there was no bad blood between him and the DP.
He further clarified that his disagreement with Ruto was only ideological and that the changes in the Jubilee Party leadership, that Atwoli supported, were not targeted at disempowering Ruto.
"I am not actually in bad terms with the DP as he is also a son of Kenya. He can today welcome me to his house and vice versa and we share a meal," stated Atwoli.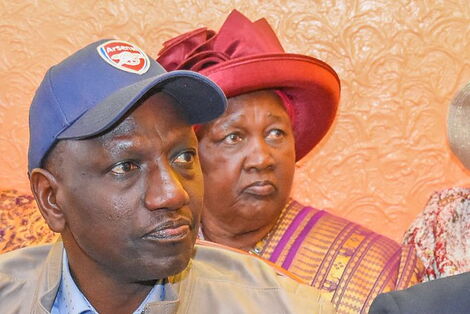 Deputy President William Ruto and his mother Sarah Cheruyiot pictured at an event. On May 10, DP Ruto sent out a special message to his mum.
He, however, faulted the DP for what he termed as early 2022 campaigns, a decision that was against the wishes of his party leader, President Uhuru Kenyatta.
Atwoli also delved into the looming changes in the Jubilee Party leadership in the National Assembly where he insisted that changes needed to reflect regional diversity.
"As leaders from Western Kenya, we state categorically that if [Benjamin] Washiali is to be shown the door, [Aden] Duale should also go for fairness to prevail," he added.
Change of heart? 
His statements were perceived as a slight departure from his strong criticism of DP Ruto and his quest to succeed Kenyatta.
He has on numerous occasions stated that the Deputy President was not fit to lead the country.
Towards the end of 2019, Atwoli claimed that Ruto was not transparent with his finances as he had allegedly failed to disclose the source of his wealth despite donating millions every week in churches.
"If the Deputy President thinks he can win the support of the Luhya community by frequenting Western region to attend church functions and making donations, he is mistaken. Some of our leaders have become cheap and are busy chasing handouts," he stated at the time.
Earlier in October 2019, however, Atwoli had asked Western Kenya leaders to work with the DP in 2022.
Ruto, during the burial of Sergeant Kipyegon Kenei, Ruto had taken a swipe at Atwoli stating "some have been going around this country saying that I will not be there in 2022 and they are still Scot-free."
Atwoli would later on Citizen TV's JK Live angrily smash his phone when discussing the Ksh39 billion fake arms scandal that involved the DP's office and the subsequent death of Kenei questioning the DP's response to the presence of the key suspect, former CS Rashid Echesa, at his Harambee Annex office.
"The Deputy President wants to tell us that Rashid Echesa and the wazungu went to his office for an hour and 22 minutes and yet nobody called him to inform him that there were some strangers in his office and yet that is the second-highest office in the land? Let him not take us for fools," Atwoli had remarked before smashing his phone.
Related