Babu Owino's Selfie Draws Attention to PS With Troubled Past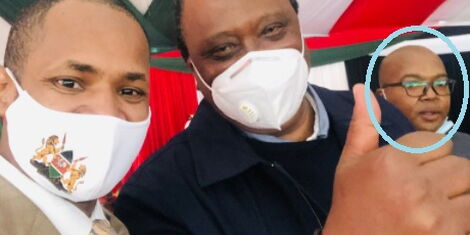 Embakasi East MP Babu Owino on Friday, August 21, posted a selfie with President Uhuru Kenyatta which made rounds on social media.
In the background of the picture was a man whom not many were familiar with – the Lands PS Nicholas Muraguri who was MCeeing during the event.
Muraguri read out names of the recipients as Uhuru handed over the titles to residents of Embakasi Ranching, Tassia, Korogocho and Mbagathi River Bank estates.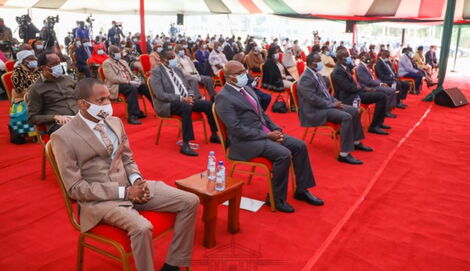 Embakasi East MP Babu Owino (left) with Lands PS Dr Nicholas Muraguri to his left during the event at KICC on August 21, 2020.
Prior to being appointed to the Lands department, Dr. Muraguri worked in the Health department when the Ksh5 Billion Afya House scandal broke.
In 2016, an investigative report revealed that Ksh5 billion had been looted by top Ministry of Health officials through manipulation of the Integrated Financial Management Information System, diversion of funds, and double payment for goods.
At the time Dr. Muraguri was the PS at the Ministry of Health where he was allegedly recorded threatening a journalist investigating the matter.
"I mean, you don't know government. We can get what you write even before you publish it, including getting print-shots and screenshots of the story. Someone can be reading your messages while sitting here. If there is a need to hack Nation's system we can. We can even confirm how much money is in your account now," the PS was quoted by Business Daily.
He later apologised for the incident.
Months later, he found himself on the spot after it emerged that he was building a Sh120 Million palatial house in his rural home in Mweiga, Nyeri county.
Local publications reported that the expensive country-home sat on a 19-acre piece of land.
Following the incident, Muraguri was among senior government officials who were transferred during reshuffles by the president.
He was moved from the Health docket to the Lands Ministry in the same capacity – a position he holds to date.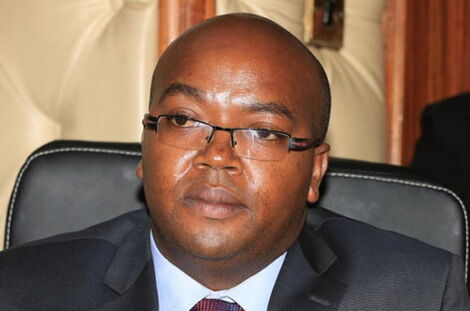 Lands PS Nicholas Muraguri at a past briefing.
In March 2020, the home was reportedly broken into and valuables were stolen in the dead of the night.
Confirming the incident, Nyeri County Commissioner Loyford Kibaara disclosed that an alarm raised by a worker who was asleep in the house disrupted the robbers who only managed to steal two TV sets.
Related