Baby Found Alive Next to Mother's Body in Bush
FACEBOOK
A seven-month old baby was found next to her mother's body in a bush and was saved by a good samaritan in West Pokot County.
It is reported that the mother, Chepokugho Ngolerongan, was taking the infant to hospital for a clinic appointment when she was attacked by a buffalo and gored to death.
Luckily, the buffalo left the baby unharmed.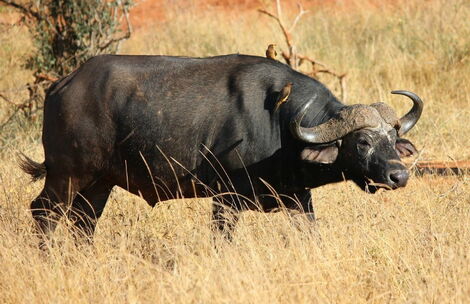 A file image of a buffalo
MT KENYA TIMES
"Her eyes were gouged out and it broke her legs and hands.  Fortunately, the baby girl was not hurt," a local resident indicated.
The incident was confirmed by Kenya Wildlife Service officials who indicated that the buffalo migrated from neighboring Uganda to Chepasacha Village in West Pokot County due to cold weather.
"The Buffalo was traced later by KWS officers and killed," KWS Senior Warden Hamisi Amulavu stated.
The baby was taken to Kapenguria County Hospital for treatment while the mother's body was taken to the facility's mortuary.
Locals have since been asked to stay vigilant and report to relevant authorities in case they spot any other wild animals.
In June 2019, the Kenya Wildlife Service set up an air unit to curb the rising cases of human-wildlife conflict in Kajiado and other parts of the country.
KWS indicated that the Problem Animal Management Unit would respond to incidences of conflict.
The unit was rolled out after two individuals were killed by marauding elephants in the Merueshi area of Kajiado East sub county.
Related