Banda Homes Advert Exposes How CEO Lied to Citizen TV [VIDEO]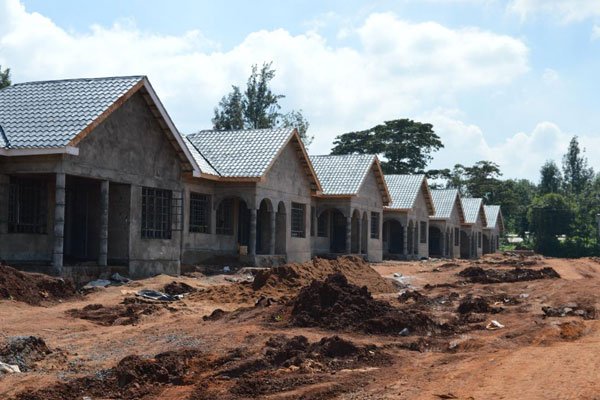 Speaking TMZ.co.ke, one of the clients of the real estate developer, who completed payment for a home back in 2018, said that the feature aired by Citizen TV on Sunday evening, May 4, was confusing, as they had been assured that the project was on track.
Footage of the CEO's reassuring words was sent out, in which he goes on to express that despite the current Covid-19 pandemic, the company was still bound by its mandate to deliver homes.
"During these trying times, a lot of businesses have shut down or slowed down, in a bid to comply with the Ministry of Health and the World Health Organization's directives on Covid-19.
"But here at Banda Homes, our mandate remains significant. We must continue to provide affordable housing. The Banda promise remains strong, we will deliver," the CEO states enthusiastically in the video.
He also urged their clients to prepare for handovers despite the current pandemic.
However, this was a direct contradiction of his statement on Citizen TV, in which he linked the current pandemic to the project delays.
"The real estate industry like with all industries on the global landscape has been significantly affected by the Covid-19 crisis," he claimed.
On his part, the firm's director Andrew Kamau Muhiu has come out with a statement concerning the machinations of the off-plan real estate model.
"Offplan is a model for people who are willing to wait, for people who need to realise value upon completion. If you are not patient, do not buy, if your heart is weak, do not buy, if you have high blood pressure, do not buy, just keep off.
"Offplan is untenable in this country, it can no longer work as it is," reads an excerpt of his statement shared on Facebook.
He went further to explain that under Banda's model, the speed of project completion was dependent on clients holding up their end of the agreement by making payments on time.
However, speaking TMZ.co.ke, one of the clients questioned what lay ahead for those who had cleared their payments us far back as 2018.
"We had a WhatsApp group but questioning the director led to an automatic dismissal, he even disbanded the group the moment the feature aired on Citizen TV," the homeowner revealed.
The director maintained his stance regarding delayed payments as the key reason for delayed delivery, going on to announce that the delivery dates would be moved ahead by several months.
"It is true that we have experienced delays and of course because of various reasons such as late payment from clients and of course a slow down in work. We also underestimated the amount of work that was going to go into that project.
"I would urge all clients to kindly understand. We are actually pushing our projects ahead by a further 6 to 8 months," Muhiu stated during his recent interview.
Related