Bishop Gakuyo Bows to Pressure, Gives Out Estates to 1,000 Customers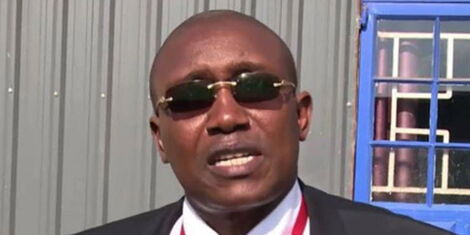 FACEBOOK
Ekeza Sacco founder Pastor David Kariuki Ngare, famously known as Bishop Gakuyo, has mapped out a plan to refund disgruntled customers their money running into millions of shillings.
On Saturday, November 21, Ekeza Sacco released a video noting that over 4,000 customers with shares worth less than Ksh 50,000 had received their refunds.
The video also indicated that over 1,000 customers who had invested over Ksh 50,000 in the company would receive parcels of lands in various counties.
"The Government and precisely the Commissioner of cooperatives in conjunction with Bishop Gakuyo have today paid more than 4,000 members who had savings below Ksh 50,000 in Ekeza Sacco, while more than 1,000 had above Ksh 50,000 converted their investment to prime properties in Real Estate.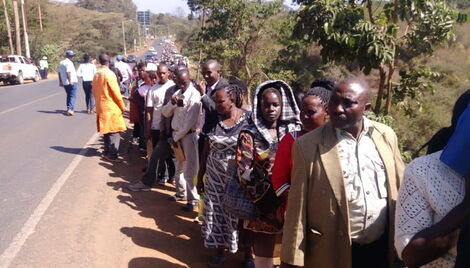 Ekeza sacco members queue at the DCI offices on Monday, march 18, 2019.
FACEBOOK
"Ekeza will pay up to the last shilling," read a statement from the Sacco.
For those clients who had invested between Ksh 50,000 and Ksh 100,000, they would receive a plot of land measuring 50 by 100 feet in Ukasi, Kitui County.
Those who had shares between Ksh 100,000 and Ksh 120,000 are set to receive plots measuring 50 by 100 feet in Subukia in Nakuru County.
Customers who had deposited Ksh 300,000 are set to receive 50 by 100 feet plots at Nanyuki, Kwa Ndaiga, in Laikipia County while those who had invested Ksh 350,000 are set to receive 50 by 100 feet parcels in Konza, Kajiado County.
Those who had invested between Ksh400,000 and Ksh420,000 would have their parcels at Kilimambogo along Tala-Kilimambogo Highway while others are located in Gwa Kung'u in Nyahururu.
A representative from Ekeza Sacco, however, declined to reveal to Tmz.co.ke how long the exercise was likely to take.
The government had taken over Gakuyo's Ekeza Sacco to protect thousands of investors.
The action was based on an audit which revealed that over Ksh1.5 billion had been embezzled from the Sacco.
The refund process commenced in January 2020. Gakuyo's plan was to pay 1,500 members in the first phase. It involved those who had saved Ksh 5,000 downwards. The second phase was for members he owed Ksh20,000 to Ksh50,000. Investors who were demanding up to Ksh200,000 would be refunded later on.
Gakuyo, at the time, detailed that the process would take up to two years, given the nature of liquidation strategy he was implementing.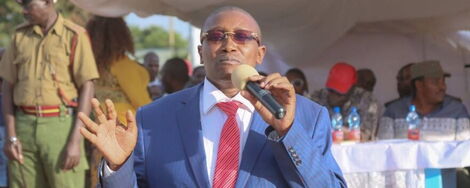 Bishop Gakuyo addresses a gathering in Kiambu in 2018
Related