Boat With Six Smugglers Capsizes in Indian Ocean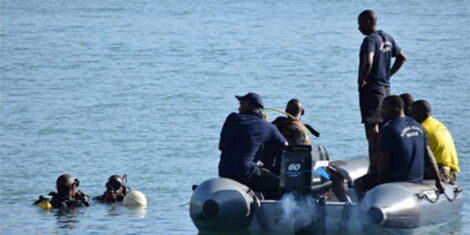 A boat with six occupants capsized in the Indian Ocean on Wednesday, June 17 as the individuals tried to smuggle Miraa across the Somalia border.
A report by KNA on Wednesday, June 17 detailed that the six were rescued by Kenya Wildlife Service and Kenya Coast Guard Services.
Kenya Maritime Authority Lamu County Manager Alex Mungai and Lamu County Commissioner, Irungu Macharia confirmed the incident.
A search and rescue team in the Indian Ocean in 2019
"There is need for all concerned to deliberate on the placement of traffic control across that channel as well as enforcement patrols and fast rescue response mechanism for that particular area that is responsible for nine capsized boats in a span of one month," Mungai stated.
"Boat operators, need to be wary about the sea during this June-July period in which the Indian Ocean is rough, and a lot of boats are likely to capsize," Macharia added.
The incident came a day after three other boats with Miraa smugglers capsized on Tuesday, June 16.
In June 2020, Somalia revoked licenses for two Kenyan airlines for allegedly smuggling Khat declared as "medical supplies" into the country. The Somali government termed the act as a violation of Covid-19 restrictions after it suspended all cargo and passenger flights into the country.
The escapades by Miraa smugglers and drivers have also attracted the attention of the Ministry of Health which is spearheading the fight against the  Coronavirus (Covid-19) pandemic.
On Wednesday, June 17, Government Spokesperson, Cyrus Oguna detailed that miraa drivers have been identified as one of the risk groups similar to truck drivers.
Oguna added that testing for Covid-19 among miraa drivers was already underway.
Health Director-General Patrick Amoth added that miraa drivers were highlighted as possible carriers due to their frequent movement across the country.
"Just like truck drivers who criss-cross the borders, miraa drivers also travel from one county to another and they pose a risk. We decided to initiate tests on them after we found out that some of them flout social-distancing and other Covid-19 stipulated measures," Amoth stated while speaking with Tmz.co.ke on Thursday, June 18.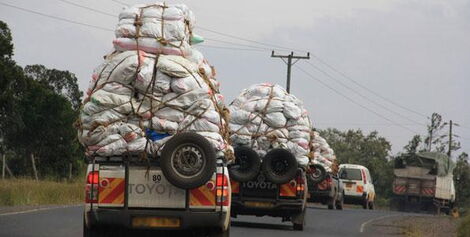 File image of Miraa truck drivers
Related