Bodies of 20 suspected illegal miners found near abandoned South Africa goldmine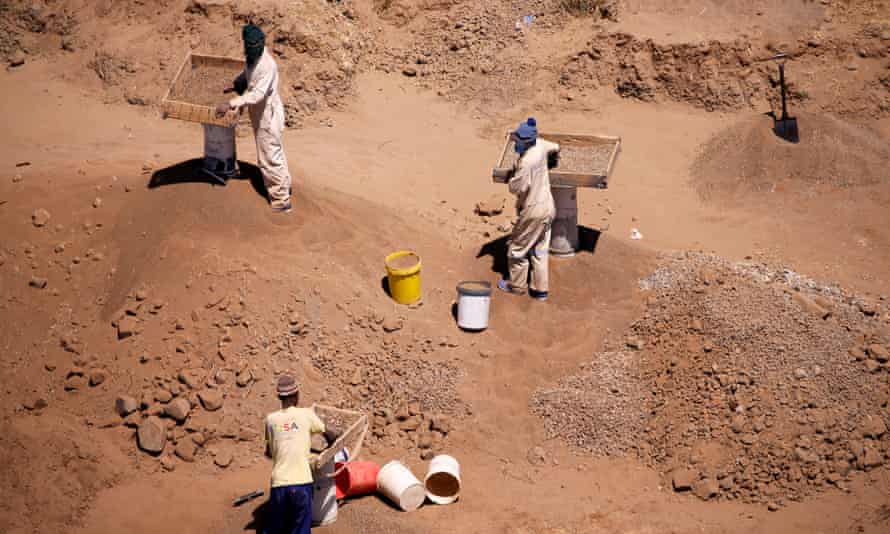 Police in
South Africa
 have discovered the bodies of 20 suspected illegal miners near an abandoned goldmine shaft south-west of Johannesburg.
Police said in a statement they were investigating the cause of the deaths, adding that the men's bodies "were found wrapped in white plastic bags" and bore "severe body burns".
"All the deceased are suspected to be illegal miners commonly known as 'zama zamas' operating in obsolete shafts in Orkney and Stilfontein," just under 200km (125 miles) south-west of Johannesburg, police said in the statement.
Thousands of "zama zamas" – which means "those who try their luck" in Zulu – operate in the country, according to the South African Human Rights Commission (SAHRC). Most are in Johannesburg, South Africa's commercial capital, which is built on some of the world's richest gold deposits.
The first five bodies were discovered on Monday and 15 more on Tuesday, police spokesperson Brigadier Sabata Mokgwabone told AFP on Wednesday. The first group was found outside a disused mine shaft, local media reported. Fourteen more "decomposed bodies were found along Ariston Road near the railway line," police spokesperson Brig Sabata Mokgwabone told the Sunday Times.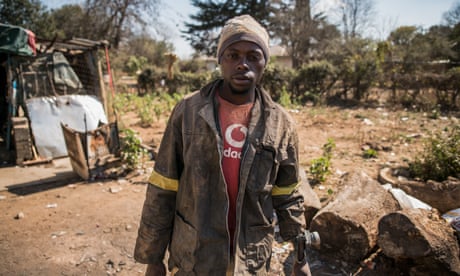 Most illegal mining is run by crime syndicates. A 2018 report by the Global Initiative Against Transnational Organized Crime estimated that it costs South Africa more than £753m a year. The practice is extremely dangerous, with the risk of injuries and deaths from explosives, toxic fume inhalation, collapsing mine shafts and gang violence.
Between 2012 and 2015 more than 300 miners working informally in illegal mines are estimated to have died. There are 6,000 "derelict and ownerless" managed by South Africa's Department of Mineral Resources, local media reported.
Informal mining is not restricted to abandoned mines. In 2009, at least 82 men – thought to have been illegal miners – died after an underground fire at an active mine owned by Harmony Gold.
The SAHRC estimates that informal mining involved as many as 30,000 people in the decade to 2015. Some miners may spend as long as six months underground, the Guardian reported in 2019, "sustained by makeshift underground villages where basic foodstuffs, airtime, alcohol and even sex are sold at dramatically inflated prices".
South African police have opened an inquest into the 20 recent deaths.
… as you're joining us today from Kenya, we have a small favour to ask. Tens of millions have placed their trust in the Guardian's high-impact journalism since we started publishing 200 years ago, turning to us in moments of crisis, uncertainty, solidarity and hope. More than 1.5 million readers, from 180 countries, have recently taken the step to support us financially – keeping us open to all, and fiercely independent.
With no shareholders or billionaire owner, we can set our own agenda and provide trustworthy journalism that's free from commercial and political influence, offering a counterweight to the spread of misinformation. When it's never mattered more, we can investigate and challenge without fear or favour.
Unlike many others, Guardian journalism is available for everyone to read, regardless of what they can afford to pay. We do this because we believe in information equality. Greater numbers of people can keep track of global events, understand their impact on people and communities, and become inspired to take meaningful action.
We aim to offer readers a comprehensive, international perspective on critical events shaping our world – from the Black Lives Matter movement, to the new American administration, Brexit, and the world's slow emergence from a global pandemic. We are committed to upholding our reputation for urgent, powerful reporting on the climate emergency, and made the decision to reject advertising from fossil fuel companies, divest from the oil and gas industries, and set a course to achieve net zero emissions by 2030.
If there were ever a time to join us, it is now. Every contribution, however big or small, powers our journalism and sustains our future. Support the Guardian from as little as $1 – it only takes a minute. If you can, please consider supporting us with a regular amount each month. Thank you.