Broken Promises- Kenyans Narrate Struggle of Connecting Relatives to Employers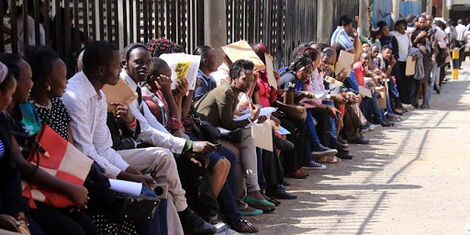 At one given time, you have probably asked your relatives or friends to link you up with a job opportunity, either at their places of work or through their numerous connections.
This is an experience that turns out to be frustrating and disappointing especially if they do not get back to you at all, and when they do, it's barely ever good news.
Kenyans online on Tuesday, September 1, narrated incidences where they promised their relatives jobs but never got back to them for varying reasons.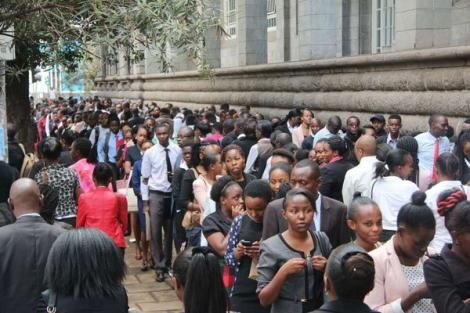 Jobseekers queue on Wabera Street, Nairobi, as they wait to be interviewed by The Sarova Stanley on May 26, 2018.
In one case, David Omwoyo stated; "Today I apologize to all my uncles… those I accused of taking my CV and not getting a job. I am now an uncle, approaching 40 and I can imagine what my nephews and nieces think about me!"
Omwoyo was backed by one Ogero who indicated that some relatives demanded jobs they had not trained for.
"Imagine working for a media house and my relatives want a job there yet they have never trained for any media-related profession," he stated.
Asking for such favors is prompted by the saturated job market in Kenya. In fact, a report released in August 2020 by the Kenya National Bureau of Statistics (KNBS) observes that 1,841,918 Kenyans were unemployed in the months of April, May and June 2020.
Businesses have been closing down while others have been downsizing, rendering Kenyans jobless especially in the wake of the Covid-19 pandemic, a situation that could lead to stress among jobless youth.
Speaking to TMZ.co.ke, Esther Mbau, a counselor, stated that feelings of hopelessness and despondency were associated with unemployment.
"When one is able to work, they are able to make a contribution to his or her community and because this is not happening, they get into mental distress and they do not feel like they are actually making an impact in their lives," Mbau stated.
Becky Mangla, a talent coaching expert explained that it was important for jobless youth to network with individuals that can be mentors.
"Do not put pressure on yourself, indicating that you need a job by tomorrow. Know that it is a process, plan accordingly and things will work out in the end," she advised.
Related