Bus Driver Who Defied Uhuru's Cessation Order Busted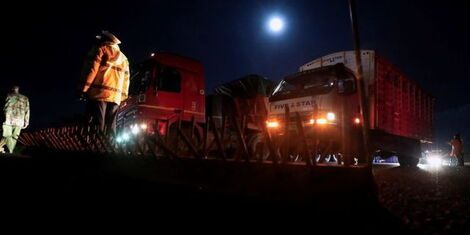 A driver accused of transporting 61 passengers from Nairobi was on Tuesday, June 16, arrested by police officers in Mandera County.
The driver, who was defying President Uhuru Kenyatta's directive on cessation of movement, was intercepted at Elwak town in Mandera South as reported by Daily Nation.
Mandera County Commissioner Onesmus Kytha stated that the driver arrived at the town at around 8 pm.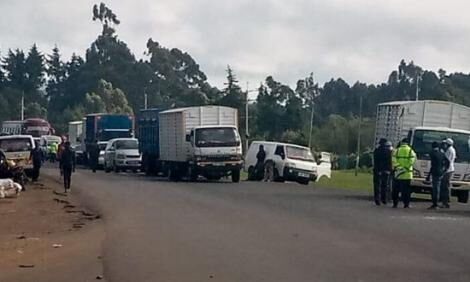 Police set up roadblocks isolating the Nairobi Metropolitan Area on April 7, 2020.
"We are holding a driver we suspect has been involved in the transportation of passengers from Nairobi despite the government's directives. We shall charge him," Kyatha stated.
He added that all the 61 passengers who had boarded the vehicle had been quarantined for a period of 14 days at their own costs.
Kyatha lamented that it was not the first time for the bus company to defy orders laid down by the government to curb the spread of Covid-19.
"We shall seek the intervention of the National Transport and Safety Authority (NTSA) in dealing with it (bus company) since it is putting many lives at risk," he declared.
Mandera Governor Ali Roba has since raised concerns that a number of public service vehicle operators have continued to sneak into the county.
"Despite the ban on travel to and from Nairobi, we are reliably informed that unscrupulous transporters have positioned themselves in strategic places outside Nairobi and still embark on travel to Mandera," he stated.
In addition to the cessation of movement, the government has also asked the public service vehicles to observe hygiene and social distance of 1.5 metres (14 seater matatus to carry a maximum of 8 passengers, 25-seater vehicles to carry a maximum of 15 and 30-seater vehicles and above to maintain the capacity of 60 per cent).
So far, Kenya has recorded 3,860 Covid-19 cases. Of this, 1,326 have recovered and 105 have passed on.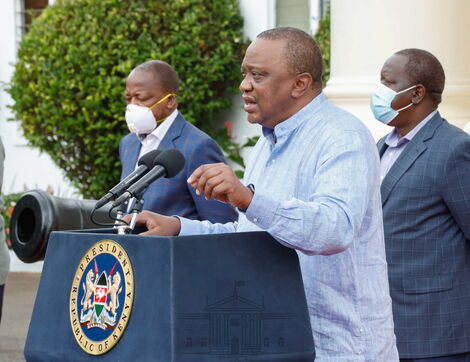 President Uhuru Kenyatta speaking at State House on May 23, 2020
Related