Cars, money, land! Prominent Kenyans talk about being conned
Actor Lenana Kariba and brother to rapper Kid Kora has said he once lost a phone after a fraudster pretended to be an honest businessman.
Speaking on the Janjaruka web series, he said,
"I WAS TRYING TO SELL MY PHONE ONLINE AND GET ANOTHER NEW ONE. WE MET IN TOWN AND HE WAS DRESSED IN A REALLY NICE SUIT. HE LOOKED LIKE A WELL-KEPT GUY AND AS SOON AS I SAT DOWN, HE STARTED ORDERING DRINKS.
HE TOLD ME A STORY ABOUT HIS FAMILY AND THAT HE RUNS A BAR AND RESTAURANT IN TOWN. HE TOOK A LOOK AT MY PHONE AND TOOK PHOTOS."
The man then pretended not to have carried the money with him and asked Kariba to accompany him to his restaurant, where the money is.
"WE GOT TO THE BAR, ORDERED ANOTHER DRINK. WE SPOKE A BIT MORE.

HE WAS TALKING TO THE PEOPLE LIKE HE KNEW THEM, IT WAS LIKE IT WAS REHEARSED.

HE WENT TO THE BACK AND IT WAS LIKE AN EXIT, AND HE WAS GONE," KARIBA SAID.
He added,
"I SAT THERE FOR 15 TO 20 MINUTES. HE DIDN'T PICK UP MY CALL.

I CALLED ONE OF THE LADIES AND SHE IS LIKE SHE DIDN'T KNOW THE PERSON."
Kariba is currently making moves with his role as 'Reagan' in the drama series 'Selina'.
Celestine Gachuhi
Celestine Gachuhi, popularly known to many by the name Selina, had also recently narrated her con story of how she almost lost Sh10,000.
"I HAD SOME MONEY ON MY PHONE AND SOME GUY GAVE ME A CALL AND CALLED ME BY MY NAME. I THOUGHT IT WAS A TELECOM COMPANY."
I told them my age and the year I was born," she said this on the 'Janjaruka' con story series.
"THE MOMENT THE GUY ASKED ME MY PIN, I CHECKED THE NUMBER AND I WAS RELUCTANT."
Gachuhi later learnt a lesson from that.
"THEY REALLY ABUSED ME BECAUSE THEY KNEW I HAD KNOWN THEIR TACTICS.

THEY USED THE INFORMATION TO CHANGE MY PIN, SO MY LINE COULD NOT WORK.

I BOUGHT ANOTHER LINE AND THEY DIDN'T TAKE ANYTHING."
Adding,
"I WAS SCARED BECAUSE THAT WAS MY SCHOOL FEES. I JUST TOLD MY SIS AND FATHER. RIGHT NOW, I'M VERY SHARP."
Below are more people who were conned and some were almost conned.
Eric Njoka
K24 anchor was conned of Ksh.850,000 when he tried to purchase a new car.
Gaspae Beda Omondi Kwedho, attempted to sell Eric a Mark X for KSh 850,000 but thankfully, his plan was foiled before the transaction went through and damage was done.
"THIS GUY GASPAE BEDA OMONDI KWEDHO IS A CONMAN.

HE MASQUERADES AS A VEHICLE SELLER AND LURES ONE TO SEND CASH AS MUCH AS KSHS.

2M AND AS LOW AS KSHS 800,000 TO HIS PSEUDO CFC STANBIC ACCOUNT," ERIC'S POST READ.
Ian Wafula
The former K24 reporter was conned of his two cars. He to exchanged his old car with another better one which was cheaper and well off.
Little did he know that the deal was too sweet and he needed to pull out quickly.
Because he did not realize this, he lost his two cars that way
Richard Limo
The world international athlete was conned during the process of purchasing land where he lost more than 50 million on a piece of land based in Eldoret municipality
The case was forwarded to court for hearings.
Owago Onyiro
Though he was conned of Ksh.70,000. He never stated the kind of business they were transacting with the con lady.
He just lamented on Facebook.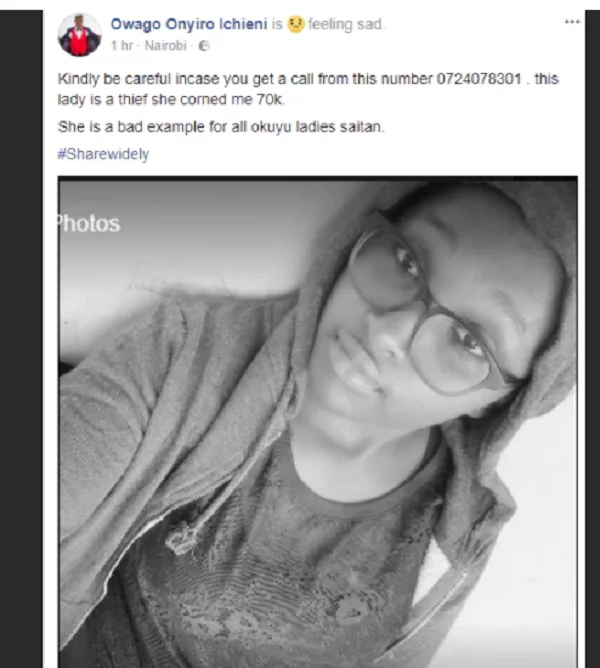 Peter Kenneth
Presidential and gubernatorial aspirant Peter Kenneth lost close to 20 million during the last 2017 election
During the primary election, Rachel Shebesh claimed that she would woe his close rivals step down for him if he parted with 20 million shillings.
Rachel Shebesh with other Jubilee party officials were to woe rivals such as Nairobi Senator Mike Sonko, Dagoreti South MP Dennis Waweru, and former Starehe MP Margaret Wanjiru among others to step down for the former Gatanga MP.
But the president and his deputy squashed down the deal claiming that they had no favourite interests in a certain candidate