Cartels Defy CS Kagwe's Orders in Ministry Shake-Up
Health CS Mutahi Kagwe has disclosed how cartels are frustrating his clean up process in the ministry.
Kagwe had ordered 31 Health Ministry Officials to vacate office, in early May 2020, after his docket was put on the spotlight for alleged misappropriation of Covid-19 funds.
In a report by People Daily on Friday, June 5, Kagwe lamented that the cartels had resisted transfers to other dockets, making him resort to using forceful measures to execute the purge.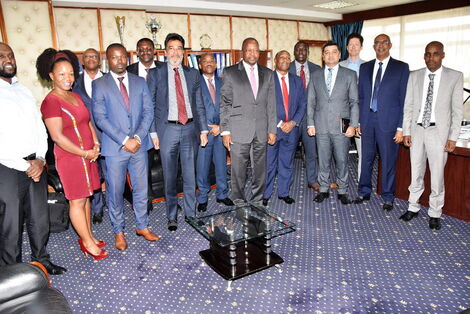 Health Cabinet Secretary Mutahi Kagwe when he held a consultative meeting on Covid-19 response with officials from the ministry, the Kenya Healthcare Federation and CEOs from the Kenya Association of Private Hospitals at Afya House on Thursday, March 26, 2020.
"I have never seen this anywhere else. I do not think there is any other ministry that has encountered situations whereby individuals refuse to move until you physically send someone to assist them out. It's a compelling situation," Kagwe stated.
The CS vowed that he was hell-bent on seeing the changes take place, arguing that he would ensure the reforms were undertaken within stipulated legal frameworks.
"Restructure is an ongoing process and no resistance will stop it. The contract spells out where someone will work.
"You can be transferred anywhere or retire at 60 years. I assure you that all we are doing is within the contract of employment," Kagwe affirmed.
He further raised concerns over individuals who were facing retirement and were part of the cartels. Kagwe reiterated that it was the government's choice to retain them or ask them to retire.
"We have people in this ministry whom we have requested to stay on. The only person with the powers to do so is the employer," he proclaimed.
The CS while addressing the media on Wednesday, May 27, disclosed that the Directorate of Criminal Investigations (DCI) was investigating fraud and embezzlement cases in his docket, and culprits would soon be apprehended.
"Just like any other sector or ministry, in this building, we have a fair share of criminals who use the name of the ministry to con Kenyans. Sometimes you will find people who have been around for 12 years. Why would such a person still want to cling to that office after staying for so many years? The only difference is that we are owning up and we are ready to deal with them.
"These are public officers who will call a businessman and tell them that they have got an order which they can help get him with a fake tender, and that fake tender might even have a Ministry of Health logo because some criminal in here has issued it out. We will unearth them," Kagwe declared.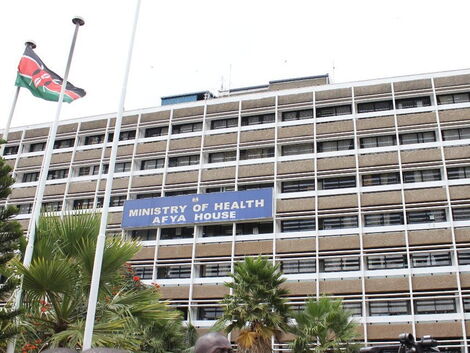 Ministry of Health's Afya House Building in Nairobi, Kenya.
Related