CCTV Captures Daring Women Robbing Supermarket [VIDEO]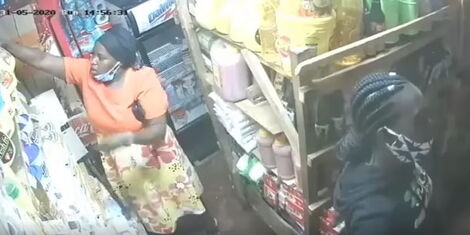 CCTV footage showing two women stealing from a supermarket in Eldoret, Uasin Gishu County caught the attention of Kenyans on Wednesday, June 3 as it went viral.
The time-stamp on the security feed indicated that the footage was recorded on the afternoon of Sunday, May 31, in a small supermarket located in an area within Eldoret known known as Hawaii.
The footage showed three women in a section of the supermarket, but only two were captured red-handed stealing essential food items.
The women wore long, flowing skirts which they used to expertly conceal the stolen goods within seconds of taking them off the shelves.
In what seemed to be a co-ordinated approach, they were seen taking cooking oil and rice, and tried to throw security off their trail by browsing various items in the supermarket.
The women, however, seemed oblivious of the CCTV camera watching their every move as they carried out the theft in less than five minutes.
Their brazen approach to the theft left many Kenyans online surprised as they questioned the motivation behind the daylight robbery without violence.
"We can't sympathise with thieves at all. There are other ways of getting food rather than stealing," argued one Arthur Njoro.
"These thieves are very cunning and they usually operate in groups. I've dealt with them before," observed Lucy Njeri.
Also read;
Given that they were determined to steal food items, however, some opined that they might have been desperate to provide for themselves or their families and resorted to stealing.
The Covid-19 pandemic has seen thousands of Kenyans lose their sources of income, dealing a blow to their ability to provide even the most basic needs.
A plan by the government to provide a cash stipend for vulnerable households was rolled out, but it has faced criticism for leaving out many who are in need.
250,000 families in informal settlements in urban centers across the country were identified by the government as beneficiaries of the program, with funds transferred through mobile money.
Interior Cabinet Secretary Fred Matiang'i told a Parliamentary committee that the weekly Ksh1,000 stipend was enough to provide food and other basic essential items.
"The study that we carried out showed that these people with a budget of Ksh4000 a month, they can afford a basic livelihood, not absolute comfort but basic livelihood," he told the committee.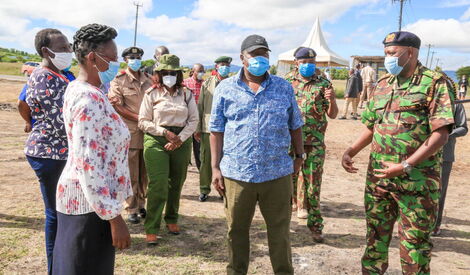 Interior CS Fred Matiang'i (centre) flanked by IG Hillary Mutyambai (right) and other security officials in Kangundo on May 1, 2020.
Related