CEO Arrested Over Ksh231M Mega Dam Scandal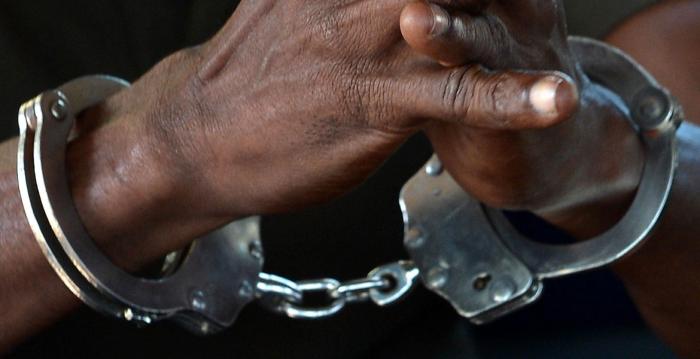 Hands of man in handcuffs.
A government Chief Executive Officer has been arrested by the Directorate of Criminal Investigation (DCI) detectives for alleged involvement in Ksh 231 million dam scandal.
On Friday, April 24, Daily Nation was first to report that National Water Harvesting Authority CEO Geoffrey Sang was arrested and was facing graft charges.
The agency is under the Water, Sanitation and Irrigation docket run by CS Sicily Kariuki.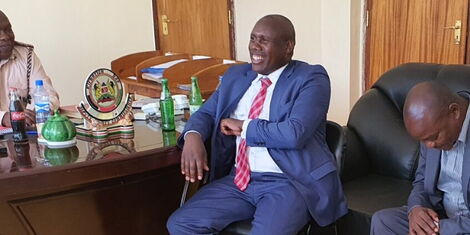 National Water Harvesting Authority CEO Geoffrey Sang (centre) in a joint meeting in February 2020
FILE
It was established on April 21, 2017, after the Water Act No. 43 of 2016 came into effect.
It oversees construction of dams and storage of water in Kenya, the development of National Public Water Works for Water Resources Storage and flood control.
It also collects and provides information for the formulation by the Cabinet Secretary on national water resources storage and flood control strategies, develops a water harvesting policy and enforces water harvesting strategies.
The agency also advises the Cabinet Secretary on any matter concerning national public waterworks for water storage and flood control.
On Friday, March 20, President Uhuru Kenyatta appointed a former security guard, Erick Okeyo, as chairperson of the Board of National Water Harvesting and Storage Authority.
Okeyo rose to become the CEO of Bedrock Security Services a firm that specialises in electronic security solutions, security personnel, cash in transit and investigations, after serving as a security guard in various firms, .
The announcement was made through the Kenya Gazette Vol. CXXII No. 50.