Chaos as Residents Demand US Ambassador's Attention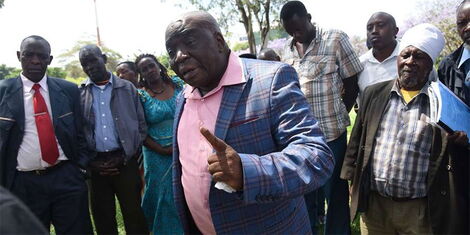 A meeting convened by Murang'a Senator Irungu Kang'ata on Saturday, July 11, turned chaotic at the end as residents protested, claiming to have been denied the chance to air their grievances to US Ambassador to Kenya, Kyle McCarter.
The Senator had called for the meeting to hand out donations, part of which came from Del Monte Kenya, a US-owned firm.
McCarter and Stergios Gkaliamoutsas, the managing director of the food processing company, both addressed the residents, promising to continue fostering beneficial initiatives that would see the county flourish.
"The US Marafiki means that the United States is going to prove to be the best friend that Kenya could ever look to. The Free Trade Agreement that we have talked about is going to translate into prosperity for the wananchi," McCarter stated during his address.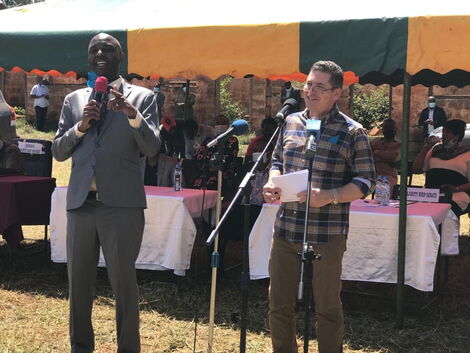 Muranga Senator Irungu Kang'ata and US Ambassador to Kenya Kyle McCarter addressing the residents of Murang'a. July 11, 2020.
Chaos broke out moments later, after Philip Kamau of the Kandara Residents Association, claimed to have been denied the chance to make a statement.
The visibly incensed representative argued that he had every right to share the grievances of the locals with the ambassador, adding that the victims of historical injustices were present at the meeting and that their voices needed to be heard.
A long-standing land lease renewal dispute between the American fruit processor and residents of Kandara Constituency, Murang'a County, was at the heart of the chaotic scenes.
The residents are pushing for the company to cede part of the land, arguing that it owns 22,000 acres out of which 13,000 are under use by the company while the rest is lying idle.
On his part, Senator Kang'ata maintained that although Del Monte may have to cede part of the land, the residents needed to express themselves with a bit of decorum, "the only issue is how you address yourself before the ambassador."
The National Assembly's Lands Committee had directed the Lands Ministry to conduct a fresh survey of land held by Del Monte in Murang'a and Kiambu counties with a view of determining the total acreage.
Del Monte's 99-year land lease expires in 2022, with 6,500 jobs at the multi-national fruit grower and processor on the line.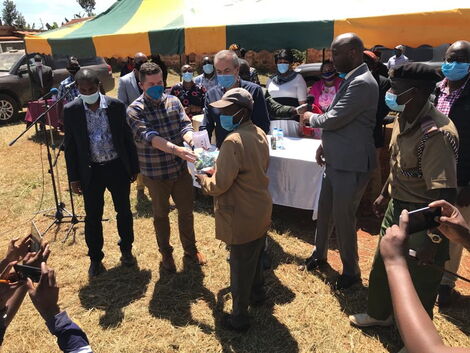 US Ambassador to Kenya Kyle McCarter handing out essential items to Kandara residents. July 11, 2020
Related