Chief Justice Maraga Reads Riot Act to Judges Skipping Duty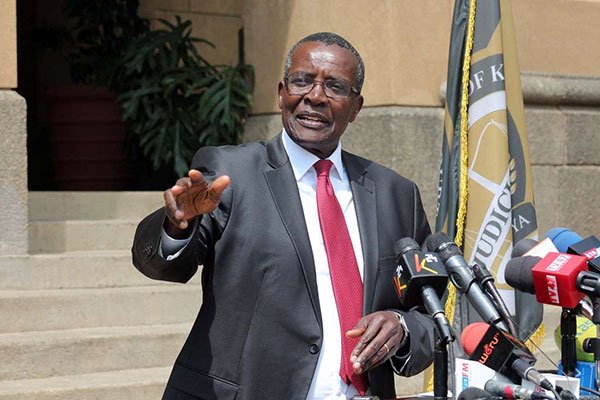 Chief Justice David Maraga during a press conference at the Supreme Court on November 4, 2019.
Chief Justice David Maraga has issued a warning to judges and magistrates who with the excuse of partial lockdowns are not carrying out their duties.
The CJ through a letter to the judiciary officers stated that a section of them was sabotaging the body's efforts to deliberate rulings remotely.
Speaking to TMZ.co.ke, Law Society of Kenya President Nelson Havi informed that there had been several complaints from members of the association, even himself with regard to the delay of hearings.
"We have received several complaints from advocates that when they file applications, they are unable to get immediate feedback. They are told a judge has to be called to come to court or indicate whether they should take the file to him or her at home," Havi stated.
File photo of Law Society of Kenya President Nelson Havi.
"That is the genesis of this problem. Some judges have taken this pandemic as an excuse not to work. We have brought to the chief justice's attention the names of these judges and magistrates," he informed.
The LSK president in his brief informed that there were several matters for which they could not access court quickly, further noting that he himself was a complainant.
CJ Maraga expressed his disappointment at learning that a section of the judges and magistrates alleged that they deliberate on cases only on Thursdays.
He further directed that the officers conduct rulings on all pending cases by the end of May 30, 2020.
"Those scheduled to be delivered later than that date should, with notice to the parties, be brought forward for us to demonstrate that we are indeed working," Maraga stated.
The CJ directed that all judges starting Thursday, 30, 2020 present to him reports on the duties covered, and to the directorate of performance management until further notice.
Maraga urged the judges to seek adequate aid from the Judiciary's ICT department so as to ensure efficient deliberation of virtual hearings.
"Colleagues, let me make it quite clear that we are all on duty. I will not allow any of us to cause problems to the entire institution. If you have any challenge with technology seek assistance from our ICT team. Those of you who have no Wi-Fi at home should work from their chambers and if they have none there, they should seek assistance from the chief registrar," Maraga stated.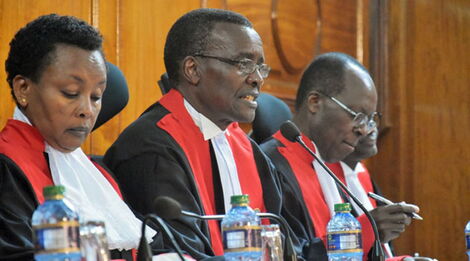 Left to right: Supreme Court Judge Philomena Mwilu, CJ David Maraga during a past ruling