Chimano of Sauti Sol Opens Up on Being Socially Awkward [VIDEO]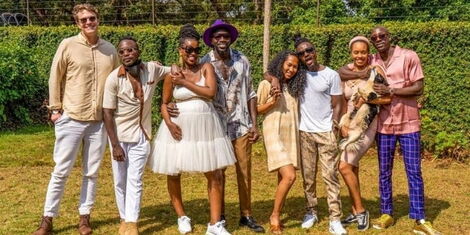 Musician Willis Chimano of Sauti Sol has opened up about being socially awkward and how he came to terms with it.
In a recent candid episode of Engage Talk, the award-winning singer traced his personality to his early childhood where he realized that social interactions were not his cup of tea.
"Growing up I considered myself a very awkward child but maybe I'm being too hard on myself so I will try and explain.
"I used to find it so laborious to make friends. It was an activity that I honestly thought I could do without," he started.
Musician Willis Chimano speaking during an episode of Engage Talk
He explained that for his primary education, he had gone through four different schools which made it very difficult to retain friends.
His very strict Christian parents were trying to get the best education for him and he ultimately managed to do well and enroll at Kakamega High School.
It took Chimano 2 years to convince his parents to transfer him to a different school and eventually ended up at Upper Hill.
This move, he says, changed his life forever because it was at this point that he met the rest of his band members Bien Barasa, Savara Mudigi and Polycarp Otieno.
"But in high school, I was still a very subdued child," he described.
Despite getting into the University of Nairobi to study journalism, Chimano didn't feel as though he was fulfilling his purpose in life until his music career started picking up.
He traced his bold sense of fashion to when he used to help his mother pick out clothes to wear to church and work. When he tried to extend the same to his father, all he got was a stern look that was more telling than words.
"Being on stage is such an amazing feeling. When I am dressed in my rarely subtle attire and singing, it feels like a different sort of energy. It brings me fulfillment," he explained.
The musician also described his sense of fashion as a challenge to toxic masculinity.
"I'm proud of the man that I'm becoming. A man who listens, a man who strives to understand the world around him in most cases, who cherishes and loves to be there for his loved ones who have played a tremendous role in his life," he intimated.
Watch the video here.
Related