Churchill Comedian Recounts Selling Chang'aa to Survive [VIDEO]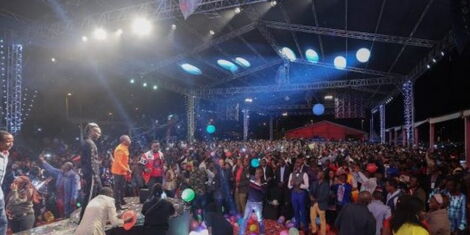 Churchill show comedian Kazungu Matano popularly known as Captain Otoyo has built his own personal brand over the years, having worked as a presenter at QFM and Radio Maisha as well as starring in hit shows such as Papa Shirandula.
Speaking to Daniel 'Churchill' Ndambuki during an interview aired on Sunday, May 24, the veteran comedian opened up on the struggles he faced growing up, going on to confess to having sold chang'aa to make ends meet.
"My mother used to sell illicit brews, and I mean all of them, whatever was in the market, she made it and sold it,
"As the children, we helped out, with the main role being acting as sentries (lookouts). We used to position ourselves strategically and alert the customers of any incoming law enforcers," he recounted.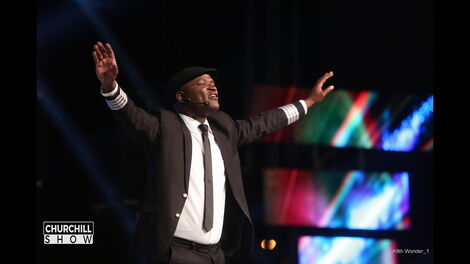 Captain Otoyo performing on the Churchill Show.
Otoyo and his six siblings had developed a special whistle which served as an alarm system, that once sounded, the customers within the homestead would run like the wind while his mother would stash away the jerricans at various designated holes she had dug up within the compound.
"You could spend an entire day searching for the brew at our compound but I can assure you that you'd never find any," he narrated.
Proceeds from the sales were used to ensure Otoyo and his siblings were able to go to school and as fate would have it, the veteran comedian ended up as one top 10  performers from the Coast Province, in the Kenya Certificate of Primary Education (KCPE) examination.
This brought about a whole new challenge, as his mother could not afford to cater for his high school fees.
"Mum could not afford to pay the fees, the viable option was to help her in the chang'aa business to raise the money.
"However, the chief from his village in my home town (Mazeras), noticed that I was still at home when other kids left for school which prompted him to organize a Harambee to try and raise funds for my education,
"I experienced barter trade in real life as people brought goods such as bags of maize and chicken in exchange for a bottle of liquor," he elaborated.
Captain Otoyo was nostalgic as he recalled how his village Chief helped him secure bursary and used the funds from the Harambee to ensure the enthusiastic scholar had essential supplies when he reported to high school.
"I had never worn shoes my entire life, not even underwear up to this point. I am a product of hard work, goodwill and my village," he stated.
He has since grown into one of Kenya's most celebrated comedians and MCs, a journey that began at a tiny village in Mazeras known as Kasemeni, where he used to help his mother sell chang'aa just to make ends meet.
The comedian also revealed that he is proud to have been able to build his parents a house and buy them a car, just as his way of showing gratitude for all the sacrifices they made to ensure Otoyo and his siblings had every chance to make something meaningful in life.
Watch Captain Otoyo recounting his early days below:
Related