Citizen TV's Njoro Breaks Silence After Papa Shirandula's Death [VIDEO]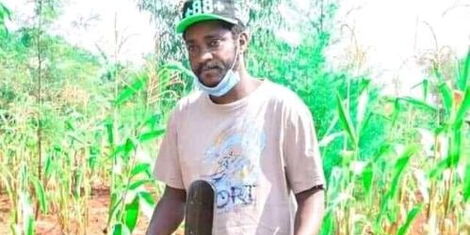 Citizen TV actor Kenneth Gichoya famously referred to as Njoro finally broke his silence following the demise of the veteran actor Charles Bukeko aka Papa Shirandula.
In an interview on fellow comedian Jalang'o's YouTube show, Njoroge remembered the late actor as the one who built his career and made him a household name.
"I have been the face behind Papa. Njoro is the character that drives Papa – he created and solved all his problems. On the show the characters were best of friends and also in real life," he recalled.
He added that he met Papa Shirandula in 1998 while working at the Kenya National Theatre (KNT) as a hawker. It was while Bukeko was performing that he offered him a job to play the role of a hawker.
Actor Kenneth Gichoya aka Njoro (left) and Kiss FM presenter Jalang'o
YOUTUBE
Njoroge recalled that they later worked on several comedy shows including Krazy Kenyanz and Trukalas and later while working as a conductor in Rongai, Papa Shirandula offered him a role for a TV show which created his unforgettable character.
Njoro described Papa as a brother who helped him through issues in his life and also offered business advice.
"He was a brother to me. When I had marital problems he would come and help me solve them and even when making investments, I would consult him first," he added.
On the show, Njoro stated that "filming ended six months ago with the Covid-19 pandemic" as the station aired already shot episodes as well as reruns of older episodes.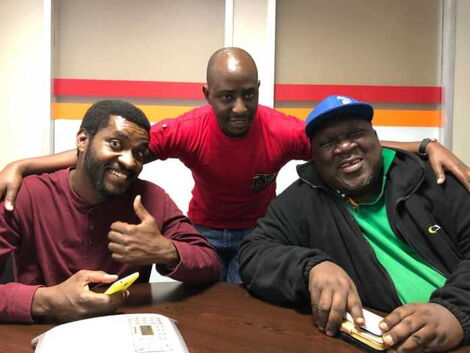 Njoro (left) and Papa Shirandula (right) with a friend during a previous interview in 2019.
During the live recording of the episode titled Papa's Tribute, Jalang'o recalled that he spoke with Papa Shirandula three days before his death and came to know of the news of his passing from the actor's wife.
He further revealed that Papa was supposed to appear on his YouTube show and Churchill Show's The Journey series before he passed.
The Kiss FM presenter disclosed that his character together with Captain Otoyo Sibuor played by Kazungu Matano was created by the Papa Shirandula.
"We had been watching the show and admired to appear on the screens. Luckily we were offered the roles and given the scripts. I wanted to make the characters memorable so we improvised and added our own lines," he stated.
The two characters became regulars on the show due to their captivating performance.
Watch the video courtesy of Jalang'o TV below:
Related