CJ Maraga Unveils New Project to Streamline Judiciary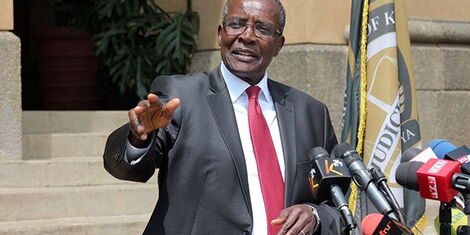 Chief Justice David Maraga, on Tuesday, June 16, unveiled a new case filing system set to disrupt the Judiciary.
In a statement shared with the public, Maraga unveiled a new portal for filing of cases online that will become exclusive beginning July 1, 2020.
The statement, signed by Judiciary Chief Registrar Anne Amadi, also noted that the service will first be rolled out in Nairobi courts and is aimed to speed up court cases.
"It is hereby notified for public information that with effect from July 1, 2020, the filing of cases in all the courts in Nairobi will be done exclusively through the electronic filing system, hereinafter referred to as 'e-filing," read the statement in part.
The Milimani Law Courts in Nairobi as pictured on November 18, 2019.
The letter further urged the Office of the Director of Public Prosecution and the Law Society of Kenya to prepare adequately for the official launch of the platform.
The new system requires all members of the public to register on the platform in order to log into the Judiciary system.
While logged in, the public can upload documents, assess court fees and submit the files to the registry.
"Any device or computer that allows attachment of files will be sufficient to access the system and carry out the e-filing," continued the statement.
The CJ noted that the system was a major step for the judiciary in achieving use of technology in all its functions to "achieve higher levels of efficiency and convergence to our stakeholders."
"The courts are already increasingly using ICT platforms to conduct hearings and deliver judgments and rulings.
"Other forthcoming initiatives include the launch of a court recording and transcription system, initially in 32 courtrooms across the country," added the statement.
Currently, the cases are presented to a court registry after the consultation of a lawyer and the complaint has been reduced to writing in the form of a plaint or originating summons or a petition.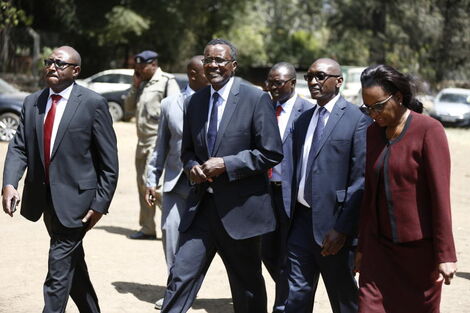 Chief Justice David Maraga (second left) with Environment and Lands Court judge Justice Sila Munyao (centre) and Chief Registrar of the Judiciary Anne Amadi (right) at Nakuru Children's court in September 2019
Related