Comedian Nicki Big Fish Attacked in Prank Gone Wrong [VIDEO]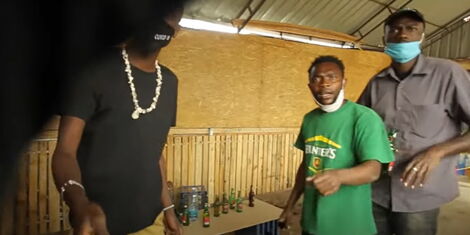 Comedian Nicki Big Fish, real name Nickson Andere left fans worried on Tuesday, August 4 after he was attacked in a bar while he shot a prank.
Also assaulted was his camera-man, who was recording the prank with a hidden camera. Bigfish, a stand-up comedian, has appeared on shows including Churchill and Ebru TV's Jibonge, and is known for his street pranks.
In his latest prank, Bigfish ventured into a closed bar where a group of young men were drinking and chewing khat despite bars being closed due to the Covid-19 pandemic.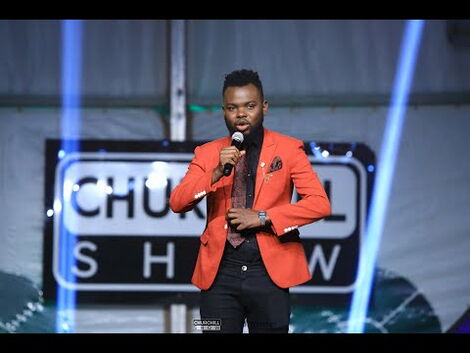 File image of comedian Nicki Bigfish
Stepping past yellow tape meant to indicate closure of the bar, Bigfish started narrating how the revelers were defying Covid-19 directives as he slowly approached them.
The men sat watching, pensively, before the situation turned chaotic as a beer bottle was thrown at Bigfish and missed him by mere inches.
Immediately after, one of the men stood and broke a beer bottle on the floor before accosting Bigfish, leaving the comedian shaken.
Reading the situation, Bigfish quickly stepped back behind the tape and made a quick exit.
Realizing that Bigfish was being recorded during his interrupted narration, the men turned their attention to the camera-man who stood at the other end of the room.
They roughed him up and demanded to know why he was recording them, even as the cameraman desperately pleaded with them claiming that he came alone.
It was not the first time one of his pranks have rubbed some the wrong way. The comedian was hospitalized in March after being assaulted while filming a prank in Nairobi.
The prank saw numerous Kenyans including comedians MCA Tricky and Eddie Butita react, urging him to be cautious even as some enquired on the safety of his crew. Addressing the incident, Bigfish cautioned fans to be cautious of drinking dens and their patrons.
Bigfish was yet to respond to queries from TMZ.co.ke by the time of publication.
"It's nice to entertain us but you should be careful. Imagine if that bottle hit your head," stated Diannah Dayi.
"Hadn't you guys thought of your security and escape plan in case they decide to rough you up," posed Mac Mulley.
"I always knew someone would hit you one of these days because of your pranks, shared one Bazenga.
Related