Comedian Who Quit as Lecturer to Join Churchill Show
Owago Onyiro is one of the endeared comedians to have ever graced Churchill Show. The artist's creativity saw him travel for international tours as he also worked as a show host at Kenya Broadcasting Corporation (KBC) before quitting in 2019.
However, not many are familiar with Owago's past career, one which he reiterates he will one day turn back to saying he views it is a calling.
Speaking with TMZ.co.ke on Tuesday, May 5, Owago disclosed that before rising to fame, he was a lecturer at a private university in Nairobi.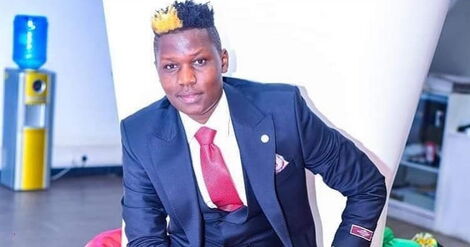 File image of former KBC show host Comedian Owago Onyiro
"I used to teach Bachelor of Arts at the campus. I studied Electrical and Electronic Engineering at the Kenya Polytechnic and this enabled me to teach Mathematics too," Owago stated.
Owago disclosed that he landed the job through an old friend from college and luck was on his side as he landed the job.
"I lectured for one and a half years. It is not a tough job, you engage the students and have fun," Owago added.
However, as he later met Daniel Ndambuki (Churchill), his life took a turn and he decided to quit teaching for comedy.
"I found it hard to balance teaching with comedy, and I decided to focus on comedy.
"I would love to go back to teaching one day, as that is a part of my life. Possession of education credentials is one important thing in this world. They come in handy at every juncture despite someone focusing entirely on something different," Owago advised.
The comedian also boasts of cooking skills, an art he shares on his Instagram pages, and showcases it too on various platforms.
"I decided to turn to cooking after Coronavirus pandemic broke out. When you look at my pages, I celebrate my fans (customers) who purchase fish. I deliver to them the fish immediately after they order. Prices vary from Ksh350 to Ksh1,000.
"On a bad day, I can deliver 8 fish. On a good day, I can deliver over 25," Owago revealed, on Monday, May 4, as his colleague Felix Odiwour (Jalang'o) marvelled at how the comedian makes sales, approximately in the hundreds of thousands in a month as the two cooked a sumptuous fish meal on Jalango's YouTube show, Bonga na Jalas.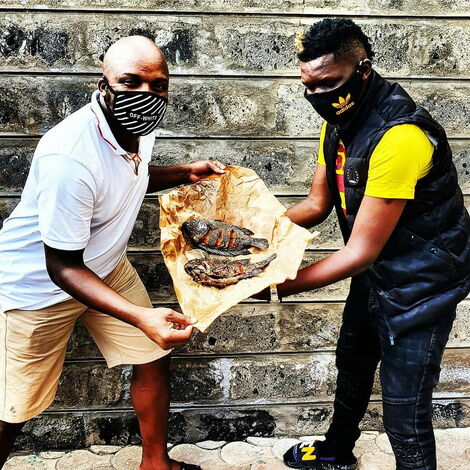 From left: Comedians Felix Odiwour (Jalang'o) and Owago Onyiro pose for a photo before cooking a meal on Jalaang'os YouTube Show Bonga na Jalas on Monday, May 4, 2020
Related