Couple Offer to Give Away Two Children To Strangers [VIDEO]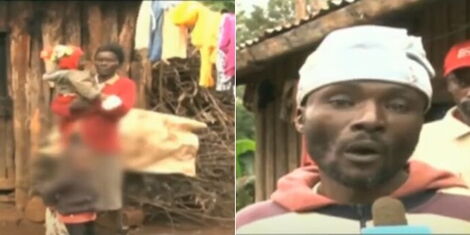 A family in Nyeri County has opted to give away its two children for free as the father lamented that he was struggling to take care of them.
Samuel Ndung'u stated that his family at times slept hungry as life had become intolerable and it pained him seeing his two-year and ten-months old babies suffer.
In a report aired by NTV on Thursday, June 18, the employed handyman detailed that his wages were insufficient to put food on the table and carter for other family needs.
His wife's effort to supplement the husband's wages are also futile as jobs are scarce during the Coronavirus (Covid-19) pandemic.
Inside the single room of couples who announced that they were willing to offer their children for free in June 2020
Ndung'u and his wife reside in a tiny one single room and rely on the mercies of employers to grant them shelter and other basic needs
"Nmeshindwa kuwapea watoto wangu chakula, hata kujinunulia mavazi. Nimeamua kumtafuta mtu nimpe watoto wangu free of charge. (I can't put food on the table and I want someone to have them free of charge).
"Nilifikiri maisha itakua mzuri lakini imenilemea. Kidogo tajiri akijua ya kwamba ati wewe maisha yako ni ya chini, anakuchukua kama chombo. (I give up. At times my employers mistreat me because they know I don't have any other option), "an emotional Ndung'u stated.
The wife broke down into tears stating that it would be hard for her to let her go her breastfeeding child. However, she was dedicated to seeing the children have a good life.
Nyeri residents sympathised with the couple but lauded them for their decision as opposed to those who sell or murder their own children when life gets tough.
On Tuesday, June 16, a five-year-old girl was allegedly sold by her mother in Kieni East, Nyeri County for Ksh28,000 to a buyer in the neighbouring county of Laikipia.
The child was child was dependent on a feeding program in the community as his family were unable to provide for her.
Video: 
Related