Covid-19: Man Threatens to Jump to Death After Testing Negative [VIDEO]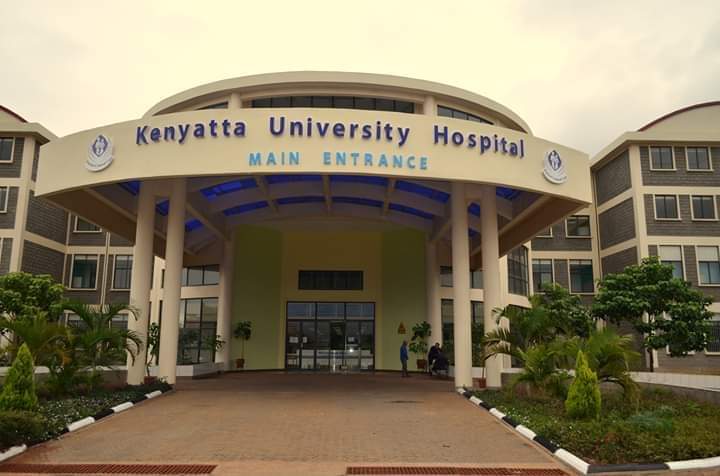 Kenyatta University Referral Hospital main entrance area.
An unidentified man attempted to jump off a building at the Kenyatta University Referral Hospital quarantine facility on Monday, April 27, despite testing negative for Covid-19.
A citizen at the health centre recorded the entire incident, in which the man can be heard lamenting over his bill.
"Tunafanya nini hapa. Hapa sikai, nimechoka kunyanyaswa. Wananilipisha kitanda tu elfu tatu (what are we doing here. I'm not willing to be here any longer, I'm tired of the oppression. They are asking me to pay Ksh3,000 just for a bed)," he decried.
Speaking to TMZ.co.ke, a patient who had recovered from the virus narrated the events that led up to the attempted suicide at the facility.
According to the patient who preferred anonymity, the man in the video had been stuck at the facility for over 21 days despite testing negative for the virus.
"He has been here for 21 days despite being declared free of the virus. I heard that he just got word that his home has been robbed which is probably why he went over the edge.
"We are currently being charged Ksh3,100 per night, despite the fact that we actually agreed to come here after we were told that government facilities were catered for," he narrated.
He went on to reveal that he was also a prisoner at the facility, having been declared as fully recovered 14 days ago.
"When we came in from abroad, it was announced at the airport that those of us who weren't financially stable should proceed to government facilities as they are fully paid for by the state," he explained.
He further questioned the utilisation of billions of shillings in donations to the country's Covid-19 fight.
"Where is this money when we need it," he decried.
In the video that has since gone viral, several individuals on the ground level are heard pleading with the man not to jump, urging him to reconsider, which he eventually did by pulling himself back from the edge of the balcony.
The man who recorded the video went on to castigate the doctors at the facility as well as the government.
"The situation is getting out of hand. What kind of government is this? We are tired," he remarked.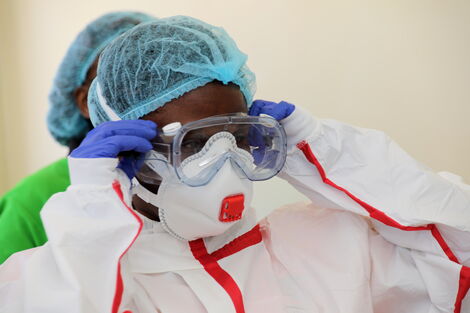 A medical practitioner dressed in protective gear at the Coronavirus isolation and treatment facility in Mbagathi District Hospital on Friday, March 6, 2020.