CS Kagwe Admits to Pressuring KEMSA Scandal Officials [VIDEO]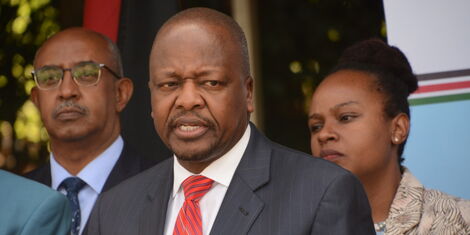 Health CS Mutahi Kagwe on Wednesday, September 2, responded to claims that he authorized the irregular procurement of Covid-19 mitigation supplies.
While appearing before the parliamentary committee on health to answer on allegations of corruption at the Kenya Medical Supplies Agency (KEMSA), Kagwe admitted that he made calls to suspended CEO Jonah Manjari to provide advice, it stated it was just as he did with other institutions under his ministry.
"We were in a crisis and yes, we do not micromanage the institutions which we run but we were in a crisis…we knew nothing about the crisis and we discussed on where we would get the reagents," Kagwe stated.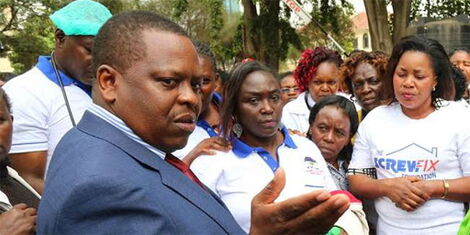 Suspended KEMSA CEO Jonah Manjari addresses a gathering in April 2020
He added that it would have been irresponsible of him not to ask his executive for solutions, especially at a time when the crisis was fairly new in the country.
"There is not a single CEO that I do not engage continuously because it is my job to communicate policy and government strategy," he continued.
He added that it was a normal and well-documented practice for a CS to consult and direct govt policies to all parastatals including KEMSA but also distanced himself from the alleged scandal.
"It's not my job to advise anybody against anything they are not supposed to do, and in the event that I told a CEO to do something that is against the law or something they are not comfortable with, he should have said give me that in writing.
Also read;
"When you go wrong you don't go wrong because the CS told you to go wrong, you go wrong because you are a poor manager and you don't know how to manage and use the laws on procurement," Kagwe declared.
Manjari, on Friday, August 28, told the Senate select committee on Covid-19 that Kagwe and Health Principal Secretary Susan Mochache influenced operations at KEMSA that led to the scandal.
"We got various requests from the Health CS, the PS and a member of the Covid-19 Emergency Response Board. The requests were in the form of phone calls, text messages and even emails," Manjari stated.
Manjari stated that the Emergency Response team once visited KEMSA and asked for specific items that they didn't have at the time and asked them to tender.
The Ministry has been on the spot over allegations of graft and misappropriation.
President Uhuru Kenyatta has since asked KEMSA to make public all of their tenders.
"I also hereby direct that the Ministry of Health within the next 30 days must come up with a transparent, open method and mechanism through which all tenders and procurement done by KEMSA are available online so that we can see who has been awarded a tender," Kenyatta directed.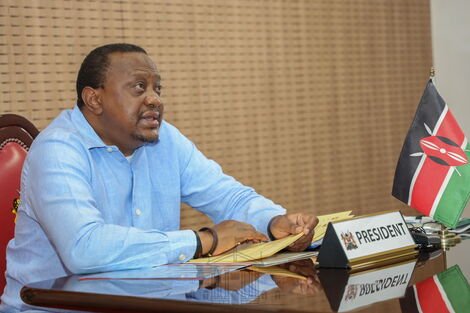 President Uhuru Kenyatta pictured during the 5th Extra-Ordinary summit on July 27, 2020
Related