CS Kagwe Announces Free Mass Testing
Health Cabinet Secretary Mutahi Kagwe has announced free mass testing targetting members of the public which started on Friday, May 15.
Taking to his social media page, the health CS revealed that the tests would be fully footed by the national government, further urging Kenyans to show up.
"A good morning to each of you. Sambaza habari! As we promised, the Ministry of Health will be conducting mass testing clinics as a means of curbing and containing the spread of Covid-19 so that we can assume some form of normalcy sooner rather than later. Today we will be in Dandora up to 4:00 p.m.
"The testing is free of charge," CS Kagwe's message read in part.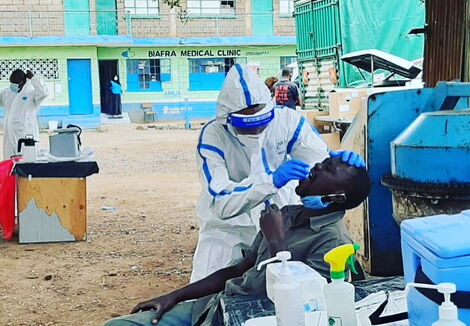 Health officer administers a Covid-19 test on a local at Biafra Medical centre in Kamukunji on Friday, May 15, 2020.
He argued that knowing one's status would aid in the fight against Covid-19 in the country, explaining that one if tests positive, one should avoid contact with family, friends and the elderly in society.
Kagwe noted that a majority of those who tested positive for Covid-19, were asymptomatic or patients with mild to moderate symptoms, and therefore, should one test positive, they would be required to self-quarantine for 14 days until their status is established.
He explained that should self-quarantine not be possible because of spacing, then the Ministry of Health would assume responsibility during the quarantine period. And such care would be provided at for free.
"Should you require hospitalization, again, the Government of Kenya will provide you with this care at no cost.
"The testing process is quick and painless. I've personally done it twice and can attest to that and the value of knowing. In partnership, let's protect ourselves, our loved ones and our nation," Kagwe stated.
The Ministry on Friday, May 15, set up clinics at Biafra Medical Centre in Kamukunji and Ronald Ngala Primary School in Dandora Phase 4.
"The exercise is essential for tracking down cases with symptoms; identifying their household cluster and tracking people they have contacted and quarantining them until they're no longer infectious," a message by the Ministry of Health read in part with regards to the exercise.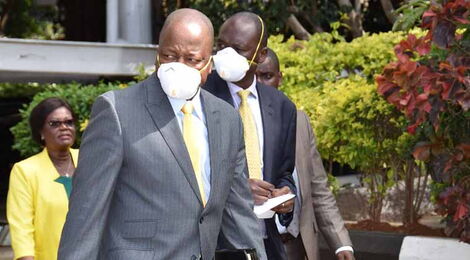 Health CS Mutahi Kagwe (front) with Ministry of Health director-general Dr. Patrick Amoth at a press briefing on April 2, 2020.
Related