CS Magoha Addresses Leaked Report on School Reopening
Education Cabinet Secretary George Magoha on Friday, May 29, addressed issues around leaked report prepared by the Covid-19 Education Response Committee on the re-opening of schools.
Speaking at the Kenya Institute of Curriculum Development offices, Magoha stated that the report was a working document adding that the reopening of schools would be guided by the health situation in the country.
"I am aware that this report reached you irregularly before being delivered to me but that is being Kenyan, there's nothing wrong with it.
"The goal of this report was not to open schools, the goal was to ensure that our children remain safe whenever we decide to open the schools," he added.
The CS further stated that the Ministry 's goal was to ensure that every child regardless of their background would have the same facilities when the schools reopen.
Magoha further advised parents to play the role of the teacher in their children's lives for the time being adding that the situation could take a long time to resolve.
"To us, the life of one child is very important, so other than thinking so much about exams and learning, teach the child what you know yourself," he stated.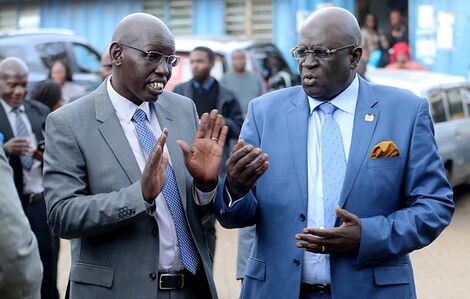 Basic Education PS Bellio Kipsang with CS George Magoha at the Kibra DO's office on January 27, 2020.
On the issue of private schools, the CS further stated the parents should negotiate with the institutions on the fees
"It was your choice to take your children to the private schools let the parents negotiate with the teachers on the charges otherwise, the private school sector will collapse," he directed.
The report by the committee chaired by KICD chairperson Sara Ruto proposed that schools, colleges, and universities re-open in September 2020 with national examinations to be taken in February  2021.
The preliminary report noted that the Covid-19 pandemic was expected to drag on for several months. As such, adequate measures should be put in place before students could resume learning.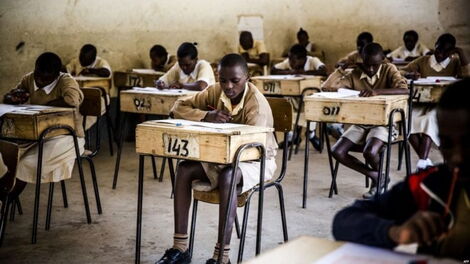 File image of students in a class
Related