D-Day for Kenya in Race for UN Security Council Seat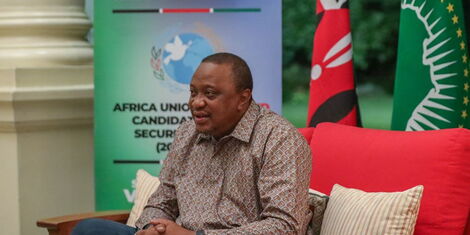 President Uhuru Kenyatta made his final pitch to permanent representatives of various countries to the United Nations (UN) in a virtual campaign meeting on Tuesday, June 16.
Kenya is gunning for a non-permanent seat on the UN Security Council with voting set for Wednesday, June 17, but will have to fight it out with Djibouti to represent Africa on the council.
Uhuru reiterated that a vote for Kenya was a vote for global peace, citing the involvement of Kenya in various peace-keeping missions.
He promised the representatives that, if elected, Kenya would use the position to advance its values of Pan-Africanism, peace, global solidarity and multilateralism.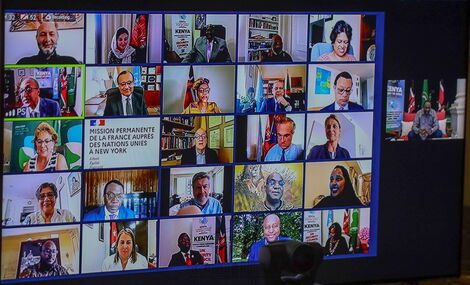 Permanent Representatives of various countries to the United Nations during a meeting with President Uhuru Kenyatta on Tuesday, June 16, 2020
He further assured the representatives that, if elected, Kenya would seek solutions to important, emerging global issues such as cyber-security.
He addressed concerns by Singapore representative Burhan Gafoor on cyber-space regulation, noting that Kenya would lobby the Security Council to enact a binding Cyber-Security treaty if elected.
Uhuru further cited Nairobi's status as host of the United Nations Environmental Programme (UNEP) headquarters as an advantage the country offered.
"I speak to you from Nairobi. Your only global capital in the South where the UN resides taking care of our environment and our habitat.
"I speak to you from Nairobi, the capital where we recently hosted one of the first blue economy conferences bringing the nations of the world together to see how we can not only preserve our oceans for future generations but how we can exploit them in a sustainable manner for present generations," he stated.
The President highlighted aspects of the country's growth and history as a testament to its respect for human rights and commitment to democracy.
He told the Permanent Representatives that Kenya's respect for human life would be translated to the global stage where he promised Kenya would oppose injustice.
"I want to give you Kenya's story. Kenya's story is one that believes and trusts that together we are stronger. One that believes that through democracy, through respect for human life and through unity, more can be achieved than individually.
"We want you to believe in us. We want you to trust in us. We want you to see our track record over the years. Stand with us as Kenya stands with you," he told them.
Orange Democratic Movement (ODM) leader Raila Odinga also shared a message in support of Kenya's bid.
"Kenya has served the community of nations with dedication and grace; hosting refugees, sending peace keepers to troubled lands, ensuring regional stability. Our Athletes are a shared Pride. We seek to continue this tradition of service via a UN seat. May the World stand with us," he tweeted on Wednesday, June 17.
Kenya was endorsed by the African Union (AU) to represent Africa in the UNSC but Djibouti threw a spanner in the works when they refused to drop out and described the AU decision as 'illegal'.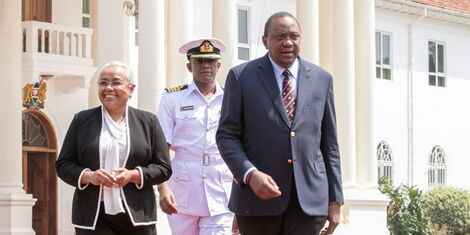 President Uhuru Kenyatta and First Lady Margaret Kenyatta at State House for the 91st Annual St John Inspection Parade at State House in 2019
Related