Davidson Wakairu: Murathe's Son Marks World Environmental Day in Style [PHOTOS]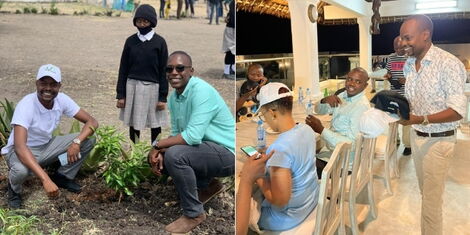 FILE
Jubilee Vice Chairman, David Murathe's son, Davidson Wakairu Gatuhi aka DWG kicked off his political career by earmarking the World Environmental Day in style.
2021's World Environmental Day was commemorated on Saturday, June 5. Wakairu mobilised his team at Vijana Amakeni and planted 1,300 trees at Mavoko Primary School in Athi River.
Vijana Amkeni is a Non-Governmental Organisation (NGO) that empowers youth across the country; politically, socially and economically. It also works towards a sustainable environment.
"We also engaged with students of the school and promised to donate 30 bags of cement to help them complete the dining hall at the grounds," Wakairu told TMZ.co.ke.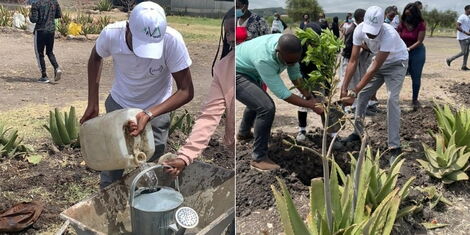 Aspiring politician Davidson Wakairu Gatuhi aka Bragg (in white) plants trees at Mavoko Primary School, Kilifi County on Saturday, June 5, 2021
FILE
In his quest to venture into politics, the student leader at Marbella International University Centre, Spain, met youth leaders of Kilifi County, who agreed to partner in Vijana Amkeni projects; environmental (tree planting, beach clean-ups), mentorship programs (teenage pregnancies in Kilifi County and campaigns against drug abuse).
Among the leaders, Wakairu met, later on, were Kilifi Youth Leaders, Emmanuel Nzai – Malindi Sub County Youth leader, Beatrice Tumaini – Director of Administration at Office of Kilifi Governor (Amason Kingi), James Mlewa – Kilfi Youth Business Leader, Amini Faini – Funds Manager NGAAF, Kilifi artist Reegan Dandy and Mbeyu Sanga – President Kenya Youth Assembly Kilifi.
Murathe's son also hosted a dinner  for the local leaders at a private venue in Kilifi.
A few days ago, he met ODM leader Raila Odinga and COTU Secretary General Francis Atwoli and discussed politics and challenges facing the youth in Kenya.
The upcoming politician is hopeful of winning a political seat in the 2022 General Elections. He, however, has not yet announced which party, seat or region he will be vying.
"I saw the need to begin a movement that brings youth together to voice issues and be involved in national affairs. We use social media to mobilise each other," he said in an interview in 2019.
Apart from managing Vijana Amkeni, the 28-year-old is also the President of an organisation dubbed Davidson Wakairu Gatuhi (DWG) Holdings and DWG Wines, companies that market and promote wines.
Wakairu is pursuing a Bachelor of Arts in Marketing and Advertising from Marbella International University Centre in Spain.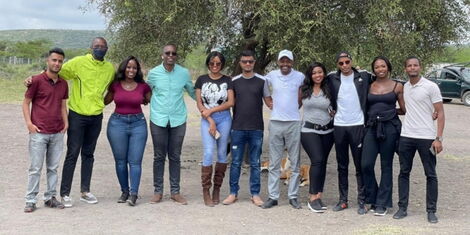 Aspiring politician Davidson Wakairu Gatuhi aka Bragg (fifth right) poses for a photo with youth leaders at Mavoko Primary School, Kilifi County on Saturday, June 5, 2021
FILE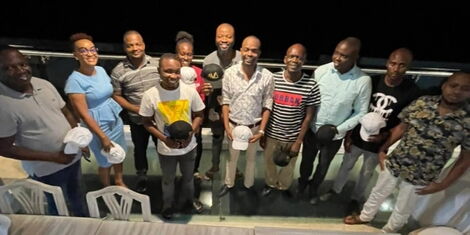 David Murathe's son Davidson Wakairu Gatuhi aka Bragg poses for a photo with Kilifi County Youth leaders
FILE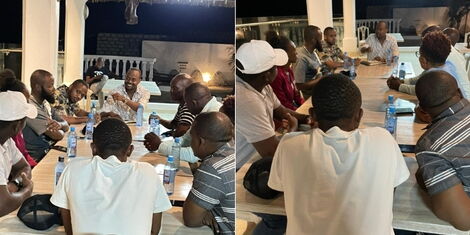 Aspiring politician Davidson Wakairu Gatuhi meets local Kilifi County leaders on Saturday, June 5, 2021
FILE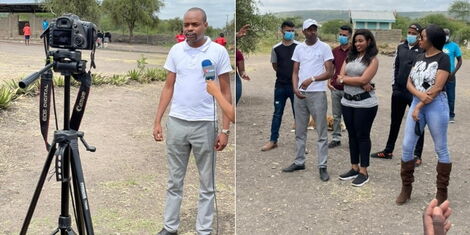 Youthful politician Davidson Wakairu Gatuhi aka Bragg (in white) addresses the media at Mavoko Primary School, Kilifi County on Saturday, June 5, 2021
Related