DCI Arrest 3 GSU Officers After Botched Ambush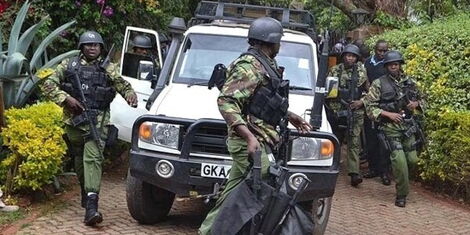 TWITTER
Three police officers were on Monday, September 14, apprehended after impersonating detectives and arresting the wrong suspect as he parked his vehicle at his home in Nyayo High-Rise.
In a statement by the Directorate of Criminal Investigations, the three officers; Gideon Sumare, Kelvin Kone Omerikwa and Shallan Ooro Ouma are said to have forced the victim into a private Land Cruiser which reportedly belonged to a civilian suspect identified as Nelson Sechere.
"Following the false arrest of a victim in a fact of mistaken identity on 9th September 2020 at Nyayo High-Rise by three GSU officers, DCI SSU and CRIB detectives managed to arrest the perpetrators alongside a civilian accomplice in the last five days," reads the statement.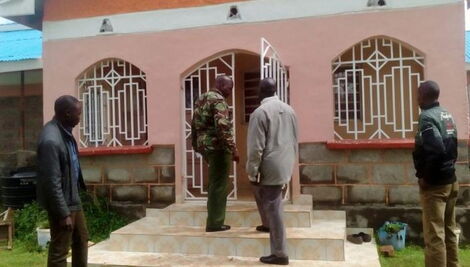 Kenya police officers pictured outside a house designated as a crime scene.
FACEBOOK
The officers were receiving instructions from Sechere who had stated that they were supposed to arrest a land dealer who had allegedly defrauded his female friend of Ksh. 800,000.
According to a report by the victim, he was forced to part with Ksh 200,000 so that he could be released.
However, he only managed to get Ksh 115,000.
On investigation, detectives found that the money had been sent to a contact linked to a man only named as Gideon, who was also found in possession of the sim card used.
A complete file with the preferred charges was today forwarded to the ODPP for perusal.
Nevertheless, the suspects could not be arraigned following an affidavit signed by the victim withdrawing charges against all the suspects.
The prosecution directed all suspects be given a reasonable cash bail, pending the decision to charge or withdraw.
"All suspects released from police custody on cash bail pending directions from the ODPP after perusing the file," reads an excerpt of the statement.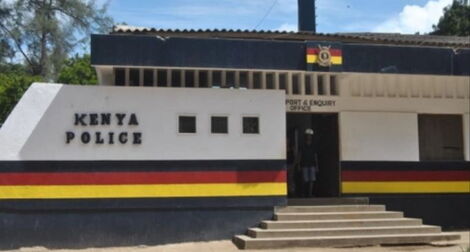 A Police Station in Mombasa County
Related