DCI Kinoti Receives Ksh31 Million Gift From US Govt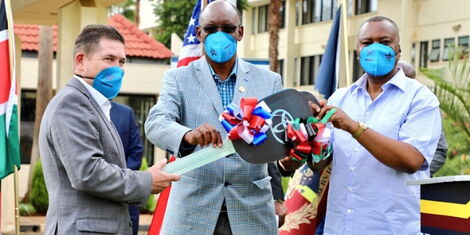 Director of Criminal Investigations George Kinoti on Friday, May 29 received a generous donation from the US government.
US Ambassador Kyle McCarter delivered the donation at the DCI headquarters and presented 10 Toyota Hilux single cabin vehicles in a colorful ceremony.
The DCI and Ethics and Anti Corruption Commission will each get five of the automobiles.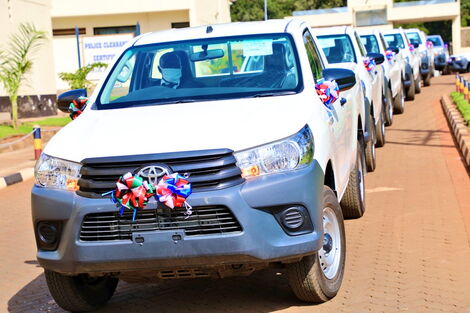 10 Toyota Hilux single cabin vehicles donated to DCI by the US government on Friday, May 2020
"Earlier today, DCI George Kinoti received US Ambassador Kyle McCarter at DCI Headquarters in a colourful reception of 10 motor vehicles donated to DCI and EACC by the US government to fasten the nip in the war against corruption.
"Through the US Embassy initiative christened USA Marafiki, each of the two institutions received five Toyota Hilux single cabin vehicles, aimed at enhancing the mobility of officers and capacitating their operations," the DCI announced.
McCarter commended the Kenyan Government through the two entities for the relentless fight against corruption.
He pointed out that the donation was a gesture of the US government's commitment to supporting Kenya's endeavour of bringing crime to its knees.
Kinoti pledged the optimization of the aid received, explaining that the five vehicles would be given to the Anti-Nacortics Sensitive Investigation Unit to help it in intensifying crackdowns and other major operations.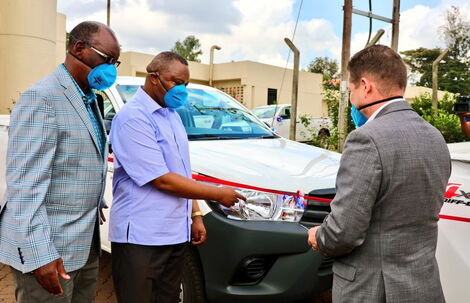 Director of Criminal Investigations (centre) receives a donation from US Ambassador Kyle McCarter on Friday, May 29, 2020
He further thanked the US Embassy for frequent donations to the National Police Service, assuring that none of its efforts would go to waste.
DCI Kinoti has cultivated a cordial relationship with the US Government which has resulted in the injection of a lot of assistance in busting crime.
In March, he was invited to attend the Federal Bureau of Investigations' (FBI) high-powered National Executive Institute (NEI) training program.
The three-week program was considered the bureau's premier executive training program and exclusively invited heads of various security agencies. Kinoti was the only security chief from Africa selected to take part.
On December 19, 2018, the US donated two vehicles to the DCI to improve criminal investigations.
The vehicles were made available through the US Drug Enforcement Administration (DEA) Nairobi Country Office to support DCI's efforts to combat drug trafficking and transnational criminal networks operating in Kenya.
Drug Enforcement Administration Country Attaché Steve Hummel presented the vehicles to the DCI Director George Kinoti at a brief ceremony at the CID headquarters along Kiambu Road.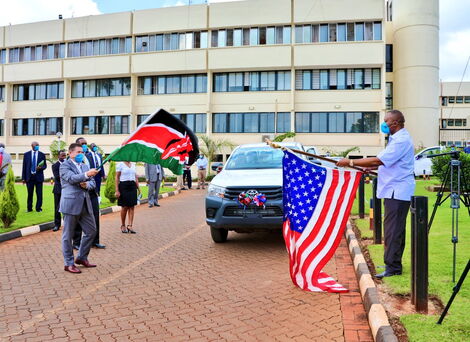 Director of Criminal Investigations (right) receives a donation from US Ambassador Kyle McCarter on Friday, May 29, 2020
Related