Dead Man's Obituary Haunts Judiciary 15 Years Later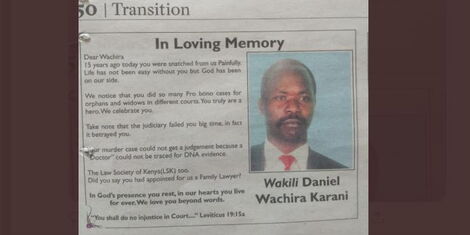 An obituary of the late Daniel Wachira Karani, a lawyer, has gone viral, after the family expressed regret that his murderers had not been brought to book 15 years later.
Penned on the Wednesday, July 29th Daily Nation issue, the family faulted the judiciary and the Law Society of Kenya for having been denied justice over the years.
"Dear Wachira 15 years ago today you were snatched from us painfully. Life has not been easy without you but God has been on our side…Take note that the judiciary failed you big time, in fact it betrayed you.
"Your murder case could not get a judgement because a 'Doctor' could not be traced for DNA evidence.The Law Society of Kenya (LSK) too. Did you say you had appointed for us a Family Lawyer?" reads the orbituary.
A file image of the judiciary
In addition, the family praised Wachira for having done pro bono cases for orphans and widows in different courts.
"You truly are a hero. We celebrate you," reads an excerpt of the orbituary.
Also read;
When asked how such unresolved cases affect family members that have been left behind, Esther Mbau, a counsellor, stated that the kin goes through different parts of grief and anger was one of them.
"Anger shows that a boundary line has been violated, so we are given anger to know when someone is crossing a path to our rights or our values. Anger is part of the grieving process," she stated.
During an interview on June 10, 2020, Univeristy of Nairobi Professor Herman Manyora faulted lawyers for the backlog witnessed in courts.
He stated that lawyers always sought to adjourn cases, which was slowing the quest of justice for a number of Kenyans.
His arguement was prompted after Chief Justice David Maraga heaped blame of an overwhelming backlog of cases on president Uhuru Kenyatta's alleged disregard of court orders.
Maraga indicated that the higher courts had a backlog of nearly 37,000 cases, which he stated had been caused by shortage of judges.
Maraga stated that the president had refused to appoint 41 judges approved by the Judicial Service Commission (JSC) despite two court orders compelling him to do so.
President Uhuru Kenyatta and Chief Justice David Maraga
Related