Dennis Andere: Boda Boda Rider Building School in Kibra [VIDEO]
In the world of Mother Teresa, giving with no regards of the size of the bank reigned supreme just as it does in the world of Dennis Andere, a boda boda rider building a school in Kibra Constitutiency, Nairobi.
Andere, popularly known as Baqteria, started out as a boda boda rider before joining a non-governmental organisation in which he helps provide employment to the youth as well as change the face of Kibra.
While appearing on an NTV show on Sunday, June 21, Andere disclosed that he met Start Somewhere Kenya's founder, Oliver von Malm, while working as a rider in the area.
"This was the first company to make twist and lock block bricks in Kenya. I used to ride a motorcycle and because of clients, I met the founder of this organisation. He is called Oliver.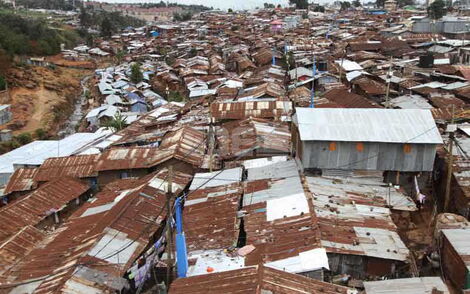 An aerial view of Kibra slum in Nairobi, Kenya.
"We linked up then and constituted a board. That was when he came up with the technology of building these bricks," he stated.
Andere disclosed that the founder, who had spent several years in the country, was concerned about the nature of housing in Kibra and was seeking to change the face of the slum.
"He had seen how our houses were constructed and he decided to come up with the brick innovation to change the situation.
"Then we built our workshop and constituted a production team," he added.
He disclosed that the organisation provides employment to many youth and has expanded to a production team of three people and an intern.
He also revealed that the organisation has employed youths exclusively from Kibra in line with its motto, "Bring change from inside."
"We saw no need of getting people from outside when we can get them in Kibra," he explained noting that new employees are taken through a tutorial before they master the craft.
Besides creating employment, Andere noted that the project is helping change the face of the slum.
"There is a project we are doing right now and it is our first. We are constructing a school and this system is still new. People have not seen it yet.
"Once we are done with the school, people will be wondering, 'where is this brick from?' By then, we shall get more clients," he remarked.
He noted that the new building system was already capturing people's attention and the organisation was seeking to empower its employees by having them volunteer for some time before the company offers to shoulder some of their construction needs.
For the future, Andere hopes that the organisation will become self-financed without overreliance on aid.
Related