Details of Mama Ngina's First Interview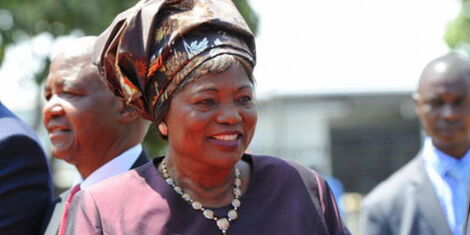 FILE
Former First Lady Mama Ngina is one of the most enigmatic women in the country. A symbol of power but still exuding grace during her rare public appearances.
47 years after her move to State House, she sat down for her first-ever interview in 2010, when she graced the Kameme FM studio.
For 22 minutes, the widow shared a gripping story of her last moments with Mzee Jomo Kenyatta.
The founding father had been complaining of a stomach discomfort which woke him up at around 2 am on that fateful day.
"He asked for water and I asked whether he would have some orange juice but he said he wanted water," she narrated.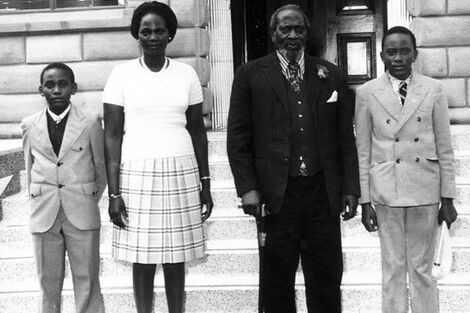 Mzee Jomo Kenyatta pictured with his family at their Gatundu home
FACEBOOK
Mzee's nurse advised Mama Ngina to alert Dr. Njoroge Mungai and Dr. Eric Mwangola on the President's condition. They were summoned from their hotels and a doctor called from the Coast General Hospital.
However, by the time Dr. Mungai and Mwangola arrived, Mzee Jomo had taken his last breath.
Mama Ngina described the moment as surreal as she struggled to contain her grief, grabbing on to the doctor from the Coast General Hospital in disbelief.
It was now up to her to lead the family. During the interview, she revealed that Mzee was short on cash and that she had to make some crucial decisions to sell some land to ensure her 4 children, Kristina, Uhuru, Nyokabi and Muhoho, got the best education possible. As any mother would.
The former first lady's herculean task of defining her own role as the president's wife was best described by Duncan Ndegwa in his book, Walking in Kenyatta Struggles.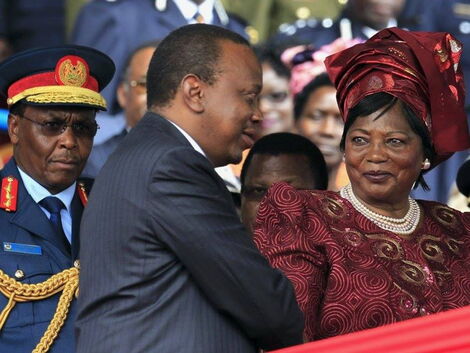 President Uhuru Kenyatta (Centre) and his mother, Mama Ngina.
FILE
"Mama Ngina had literally gone from the village to State House and the onus of grooming the First Lady initially fell in the hands of Nyiva Mwendwa,
"Ngina's learning curve – into a lady of culture and elegance – was steep, but we all admired her resolve. On the occasion of Kenyatta's inauguration, she emerged from the house dressed in long pants and a sleeveless tunic. Mzee had never seen his wife dressed in trousers, or otherwise so loudly deviating from her norms of dress. It was a tense journey to the ceremony," reads an excerpt from the book.
In the fullness of time, Mama Ngina's image blossomed in the eyes of the public.
Her astute financial skills and her penchant for privacy are neatly expounded in Ndegwa's book.
On June 12, 2015, the "Living Legends" award was conferred on the country's founding First Lady by the African Women of Excellence Awards.
The award recognizes the continent's unsung heroines especially those who have previously participated in the emancipation of Africa either socially or politically amongst other struggles for the betterment of the African people.
Her jail term alongside other gallant Kenyans who were opposed to British domination during the pre-colonial era was highlighted as one of her numerous contributions to the liberation movement.
On May 30, 2016, The East African Legislative Assembly (EALA) honoured Mama Ngina alongside other East African independence First Ladies, Mama Miria Obote (Uganda) and Mama Maria Nyerere (Tanzania) for their contribution to the formation of the first regional bloc (1967 – 1977).
Her accolades and achievements are well documented. Interestingly, her granddaughter, Ngina Kenyatta (President Uhuru's daughter named after her) seems to be keen to follow in her footsteps.
Her involvement in charity organizations mirrors her grandmother, whose Children's Home in South C has provided institutional care and outreach services to thousands of children over the years.
She may be one of the most private individuals in the country, but her work over the decades has left a visible mark.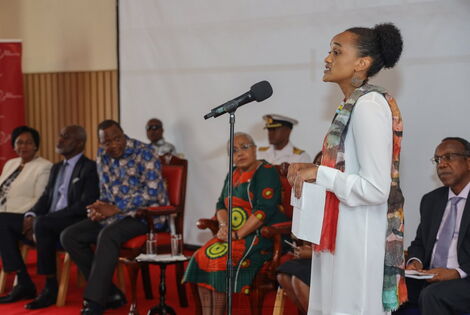 Ngina Kenyatta speaks during the African Philanthropy Forum at Strathmore Business School, Nairobi, on November 15, 2019
Related