Details of Uhuru's New Trade Deal With US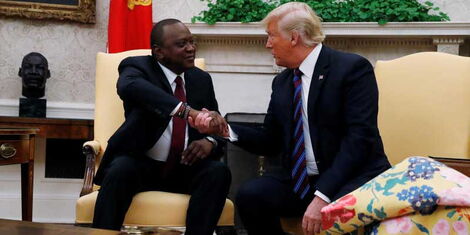 President Uhuru Kenyatta on Thursday, June 18, stated that Kenya's new trade deal with the United States would assist the African Continent.
The president explained that the deal would help the continent by creating a reference upon which other African nations would negotiate bilateral arrangements within the African Continental Free Trade Agreement (AfCFTA).
Speaking from State House during a webinar hosted by the Atlantic Council, Uhuru dispelled fears that the trade talks between Kenya and the US would undermine AfCFTA.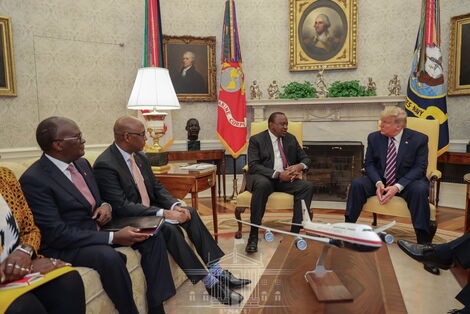 From left, Transport CS James Macharia, EAC CS Adan Mohamed, President Uhuru Kenyatta and US president Donald Trump during a meeting in the United States on February 6, 2020.
PSCU
"Kenya will be the first under the new AfCTA so we are going to be trailblazers in this and we hope that others will also follow through," the president said.
Trade talks with Nairobi were announced during a White House visit by Kenyan President Uhuru Kenyatta in early February 2020. It would be the United States' first free trade agreement (FTA) with a sub-Saharan African country and its second on the continent, after the 2006 FTA with Morocco.
The partnership, Uhuru stated, would reposition Kenya as a gateway of American investments into Africa.
"The essence of an FTA is investment. Ultimately, I believe, Americans themselves will be able to say, why can't we just invest in Kenya and not only take advantage of Kenya but the region," he added.
Trade between the two countries currently stands at around $1 billion annually, just barely putting Kenya in the United States' top one hundred trading partners.
While the United States is a major destination for Kenyan exports, Kenya's total U.S. trade is dwarfed by that with other partners, especially China, from which it imports more than $3.6 billion worth of goods each year.
The head of state added that the arrangement would be a win-win situation for both Kenya and the US.
It's unclear how much a new trade pact would move the needle. Kenya already has preferential access to the U.S. market through the African Growth and Opportunity Act (AGOA), a program started in 2000 that eliminates import tariffs on goods from dozens of African countries.
Kenya and the USA are looking at the possibility of having free trade space where investors in both countries would freely move goods and services.
Kenya is one of AGOA's top five exporters to the United States, primarily sending apparel, cocoa, tree nuts, coffee, and tea. It imports American aircraft, machinery, agricultural products, and plastics.
Negotiators of the Kenya-USA trade deal will have to hash out the details on many thorny issues, including Kenya's obligations to the AfCFTA (which remain unclear), purchases of U.S. agricultural goods, and environmental protections.
It's also important to note that even after an agreement is reached, it will need to be approved by Congress, a process that has held up other major efforts by Trump, such as the revamped U.S.-Mexico-Canada trade deal.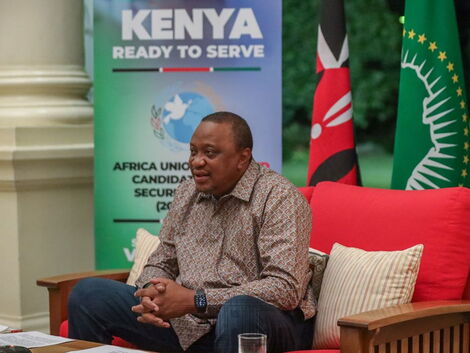 President Uhuru Kenyatta during a meeting with Permanent Representatives of various countries to the United Nations on Tuesday, June 16, 2020
Related