DJ Evolve Discharged From Hospital 6 Months After Shooting
Felix Orinda, popularly known as DJ Evolve, was on Thursday, June 18, discharged from Nairobi Hospital.
Speaking to Tmz.co.ke, one of his colleagues, confirmed that despite not being able to walk, the hospital had given him the all-clear to head home.
The DJ was admitted and placed in the Intensive Care Unit at Nairobi Hospital, following the shooting incident that took place at Nairobi's B-Club on January 17.
His colleague also revealed that the DJ's speech was still not back to normal, having undergone multiple surgeries.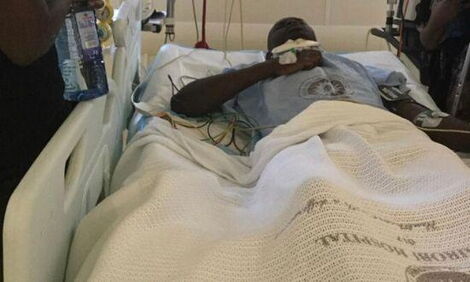 Felix Ondari alias DJ Evolve at the Nairobi Hospital where he has been receiving treatment.
In mid-May, word had spread that he was released and back home, but it turned out to be fake news, with his father, John Orinda, informing Kenyans.co.ke that he was still in the hospital.
"He is still in hospital and as we speak, I am in the ward with him. He has been moved to the general ward, but he can't sit," he said.
"His upper body is okay, his hands can move, he can talk, but he has a pipe in the oesophagus. So he can't talk when it's inside. His legs are still unresponsive," he added
In the latest video circulating across social media platforms, DJ Evolve can be seen strapped in a bed inside an ambulance wearing a protective face mask.
His friends and loved ones are also seen and heard jubilating in the background, with chants of gratitude over the recovery and exceptional work carried out by the doctors over the last 6 months to keep him alive.
On May 16, DJ Evolve shared a video on his Instagram page showing one of his previous shows.
He used the caption to inform his fans he was well on his way to recovery and was looking forward to a comeback.
"Still have a long way to go but I'll be back. Thank you all for the well wishes," he said.
Embakasi East MP Babu Owino was, on January 27, released on a cash bail of Ksh10 million in his case over the shooting of the DJ.
The court, however, gave tough conditions for the MP's release from Industrial Area Prison, one being payment of the first instalment of Ksh2.5 million before he is freed.
Milimani Chief Magistrate Francis Andayi set other conditions, noting the need to avoid the impression that the footing of the DJ's hospital bill was used to hoodwink the court into granting the suspect bail.
Speaking to Tmz.co.ke on May 17, DJ Evolve's dad revealed that the hospital bill stood at approximately Ksh16 million at the time.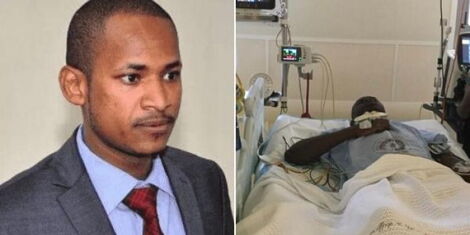 Embakasi East MP Babu Owino (left) and DJ Evolve hospitalised at Nairobi Hospital.
Related