DPP Haji Explains Setback on Corruption Cases From EACC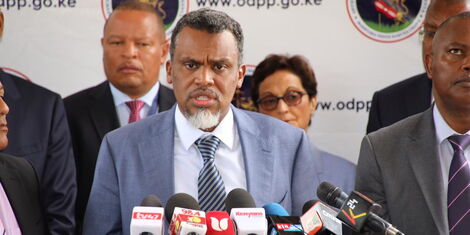 The Director of Public Prosecutions Noordin Haji on Wednesday, May 27, responded to claims that his office had only presented one corruption case file from the EACC between October and December 2019.
Speaking to Tmz.co.ke, DPP Haji explained that for a case to be presented in court, it needed to have sufficient evidence to make it substantial. This as the burden of proof falls solely on the prosecution.
"In criminal matters, we have to prove beyond a reasonable doubt. A single loophole can cause an entire case to crumble," he explained.
Referencing a recent ruling where the DPP was ordered to furnish suspects with documentary evidence prior to pressing charges, the DPP stated that courts had given the prosecution strict guidelines when carrying out their investigations.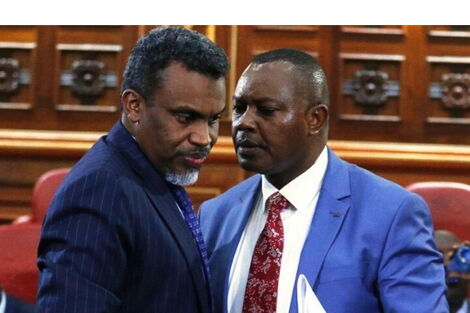 DPP Noordin Haji and DCI George Kinoti in Parliament in 2019
"You cannot go to court without all the statements. The courts are strict with us so we have to be very strict with the cases we forward to them. I cannot allow a prosecutor to go before a court without all the evidence they need to prove the case," he added.
He however, did not reveal the number of cases that were currently active only terming it progress when together with the EACC, Migori Governor Okoth Obado was implicated in a fresh Ksh35 Million embezzlement case.
The bodies were able to freeze Obado's assets after determining that the county head squandered taxpayer funds by using a proxy to purchase a house in one of Nairobi's prime estates.
Assistant Deputy DPP Emily Kamau further explained that the Prosecution office was keen on ensuring that cases prosecuted are substantial in that the disclosure is smooth and the case proceeds without needing additional evidence.
"The court might bar you from adding more charges later and we are trying to reduce such incidences. By doing a professional job we must ensure all the areas are covered and disclosure is observed when the case commences otherwise the defence team will be up in arms when new evidence is presented six months after the case has begun," she explained.
She noted that the due diligence by the Office of the prosecution was to ensure that cases take the shortest time possible when presented in court.
Kamau conveyed that just because some cases weren't prosecuted, it didn't mean that they would not be pursued in the future as it was all dependent on the evidence gathered.
The DPP was earlier in May 2020, dealt a blow when he tried to amend a manslaughter charge against Lawyer Assa Nyakundi to a murder charge. Senior Principal Magistrate Teresa Nyangena dismissed the application disclosing that no new evidence had been tabled by the prosecution to amend the charges.
The Magistrate further faulted Haji for his handling of the case stating, "The DPP does not appear keen on upholding the rule of law, accused rights, public interest, and strengthening of the criminal justice system."
In a report by Citizen TV, 12 cases between October 2019- December 2019 had been returned by the DPP to the anti-corruption commission while 18 were awaiting approval from the prosecutor.
29 cases by the EACC had been recommended for prosecution, including cases based on irregular procurement and awarding of tenders, fraud, misappropriation of funds at the county level, bribery, forgery, and abuse of office.
A large number of cases under review were reported in Nairobi County at 12, while both Uasin Gishu and Mombasa Counties had four cases each. Tharaka Nithi reported 3 cases and Turkana had 2.
Related