Driver Leaves Githurai Man With Ksh2.5M Debt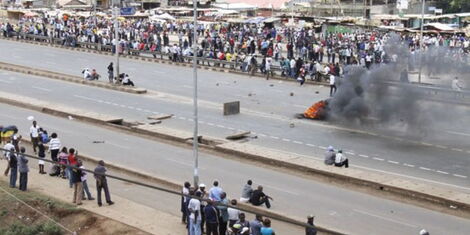 DAILY NATION
Victor Ouma, a Githurai resident is currently battling for his life, as his family and friends scramble to raise Ksh2.5 million to clear his hospital bills.
On June 2, Ouma was run over by a car that was speeding along the wrong side of the Githurai interchange.
According to the police & eyewitnesses, the car was on the wrong side, trying to make an illegal turn to avoid doing the extra distance for proper change, a common habit of notorious motorists plying the route.
The driver of the car, slowed down, as if he was making a stop, but proceeded to complete the illegal turn, and sped off, leaving his 2 victims sprawled out on the tarmac.
Ouma was in the company of 2 of his friends (a couple) when the accident happened.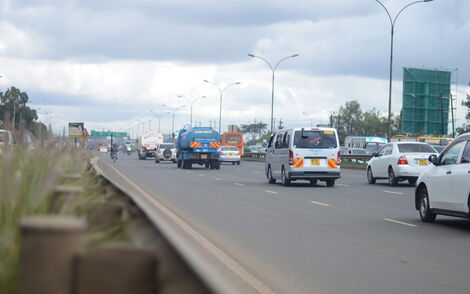 Traffic on a section Of Thika Super Highway as seen on November 11, 2019.
FILE
"My brother looked terribly bad, motionless, that a choice was made to rush the lady to the hospital because she had a better chance. She also had no serious visible injuries. They dashed to a hospital in Kasarani," Ouma's brother detailed.
Sadly the young lady was pronounced dead on arrival at a Hospital in Kasarani. Moments later, a good samaritan agreed to rush Ouma to Thika Level 5 Hospital, after he showed some signs of life.
However, according to his brother's account, things soon took a turn for the worse.
"The only risk was his legs. His left leg had been broken twice. His right had a major fracture. So since he was out of danger, we needed him to get that Surgery as soon as possible. A doctor had told us that after one week to 10 days, he would be good to go recuperate at home," Ouma's brother revealed.
Securing him a spot for the life-saving surgery turned into an entire episode of its own with the family expressing their frustration of having to watch crucial days go by as their kin remained unattended to.
With Ouma's health deteriorating, the family was advised to take him to Avenue Hospital where the doctors were simply stunned at his condition which included bedsores and near paralysis.
They quickly scheduled him in for surgery to try and salvage his legs, while his family turned to well-wishers to help raise funds.
This is a common theme on the country. Hit and run drivers usually end up leaving a trail of destruction in their wake, with families scrambling to raise millions to cater for medical expenses.
Leaving the scene after hitting a vehicle or pedestrian is a criminal offense. Many times, motorists flee the scene of the accident either because they are not insured or out of fear of mob justice.
In Kenya, buying the minimum cover i.e. the third party car insurance for the vehicle you own is mandatory.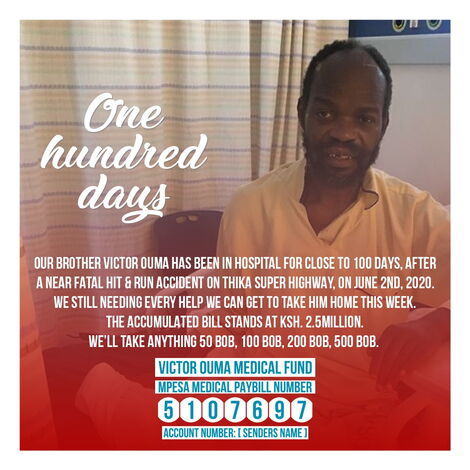 A message from Victor Ouma's Family
Related