Education CAS Zack Kinuthia's Remark on Uhuru Causes Uproar [VIDEO]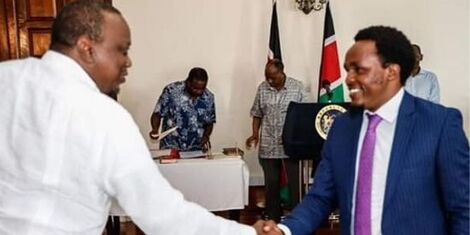 Education CAS Zack Kinuthia's remarks on President Uhuru Kenyatta and youth empowerment have caused an uproar with Kenya's unemployment rate doubling to 10.4% in just three months.
In a video seen by Kenyans.co.ke on Thursday, September 3, Kinuthia urged County Governors to empower the youth, rather than depend on the President and the National Government to set up strategies.
"Put up schemes that support the youth. Their growth is in your hands. It's not in the President's nor Government's hands.
"He cannot wake up today and give a decree because it is a constitutional order, which you promulgated 10 yrs ago," Kinuthia defended Kenyatta, arguing that he was bound to legal procedures.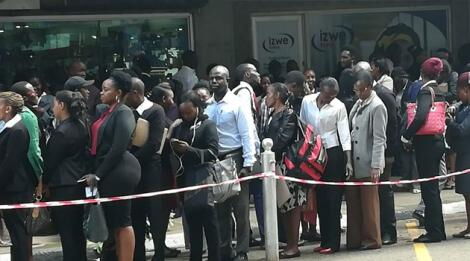 Hundreds of youth queue during an open employment drive by a city hotel on Saturday, May 26, 2018
FILE
The CAS further urged Governors to set up budgets for the youth and warned the leaders that despite the youth being a nation's greatest asset, they also can be frustrated and turn against the country.
Kinuthia is one of the younger government appointees selected by Kenyatta after Kenyans raged over the ages being prioritized for public offices.
His sentiments, however, did not augur well with a section of the youth who turned against him for protecting the government and for reportedly making empty promises.
Law Society of Kenya President, Nelson Havi led the uproar, arguing that Kinuthia was uninformed on the state of the country. He also lamented that Kenyatta had appointed the CAS to an unconstitutional office. Havi seized the moment to poke holes at Kenyatta who he (Havi) accused of disobeying the constitution.
Other Kenyans accused Kinuthia of doublespeak, alleging that his promise on the release of Board of Management teachers' funds had not yet been realized. The BoM teachers' funds issue has dragged on for months as the categorized teachers wait to be cushioned by the government. Public school teachers, on the other hand, have been receiving monthly salaries. The fate of their privately appointed colleagues is yet to be actualized.
"You are a disappointment of a CAS & a 'youth'. Why are you shifting responsibility and blaming the county governments," one Gourmandy stated.
"All the cries from BoM teachers are from youths just like you. I thought you were appointed to push for our rights. Address their issues so that they can feel honored having you in such a high office. Mbona wateseke ukiwa kwa hio ofisi?" Jonathan Karume wondered.
However, the CAS while speaking with Kenyans.co.ke defended himself against the outrage and argued that his remarks were directed to Governor to focus on upgrading Youth Polytechnics as the National Government was focused on Primary, Secondary schools and TVETs. He stated that offering jobs would not solve the unemployment crisis, rather training Kenyans to have skills will create self-employment.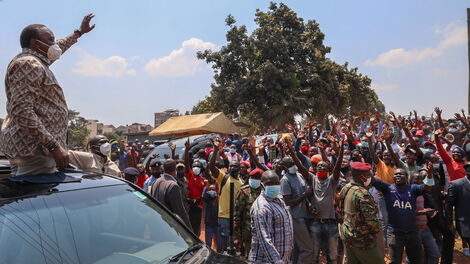 President Uhuru Kenyatta pictured in Nairobi Slums on August 10, 2020.
PSCU
Watch CAS Zack Kinuthia speak on youth empowerment
Related